Gluten-Free Dairy-Free Lemon Loaf
When a friend posted a picture and recipe of a copycat Starbucks lemon loaf recipe on Facebook, I thought, I bet I
could make this gluten-free. I have a faint memory of the taste from about 6 years ago when I used to eat gluten. And I remember liking it. Three days after seeing the post, I decided to create a gluten-free dairy-free lemon loaf recipe. It was so good that the family has requested I make this once a week!
Generally, when I try to convert something to gluten-free, I start with my flour blend. I usually add a
small amount of xanthan gum. For cakes and muffins, I add ½ teaspoon or so for every 2 cups of flour. For dairy-free, I substitute soy-free Earth Balance for the butter and most any milk substitute for milk.
So, if you have a regular recipe for almost anything except bread or pizza, I encourage you to try to make it gluten-free with simple substitutions. You might just find it's even better than the original!
One thing to note. Gluten-free baked goods don't have the shelf life of their gluten counterparts. You
can add 1/8 of a teaspoon of dried ginger to the dry ingredients or put the baked good in the fridge after a day. For this loaf, I liked the texture better after it was refrigerated. I made the loaf at night, cooled it, then placed it in the fridge. I added the icing/glaze the next day. It was worth the wait. Keep that in mind when you are planning your baking. With some gluten-free baked goods, it's better after it is completely cool (but so hard to be patient!).
Okay, get in the kitchen and start baking! Enjoy.
Gluten-Free Dairy-Free Lemon Loaf
Dry Ingredients
1 ½ cups Amy's Gluten-Free Flour Blend
½ teaspoon baking soda
½ teaspoon gluten-free baking powder (look for this on the label)
½ teaspoon kosher salt
Scant ½ teaspoon xanthan gum or ¾ teaspoon guar gum
Wet Ingredients
3 large eggs, at room temperature
1 cup white sugar
1/3 cup fresh lemon juice (I used 2 lemons)
2 tablespoons soy-free Earth Balance spread (or other butter substitute), softened
1 teaspoon vanilla extract
1 teaspoon lemon extract
½ cup oil (I used unrefined coconut oil)
Icing
1 cup powdered sugar (plus more if icing is thin)
2-4 teaspoons milk substitute (I used almond milk)
1/2 teaspoon lemon extract
1. Preheat oven to 350F. Grease 9" x 5" loaf pan.
2. Combine gluten-free flour, baking soda, baking powder, salt, and gum in a bowl small or
medium bowl. Set aside.
3. In a large bowl, place eggs, sugar, lemon juice, butter substitute, vanilla, and lemon extract (you
will add the oil later). With an electric mixer, beat ingredients until well blended, about 2
minutes.
4. Add dry ingredients to the wet mixture and blend until smooth, about 1 minute. Blend on high
for 10 seconds. Add oil and mix until well blended.
5. Pour batter into prepared pan. Bake for 40-45 minutes (start testing at 40 minutes) or until the
loaf starts to pull away from the pan, and the loaf springs back when pressed with your finger. If
it stays indented, cook a few minutes longer.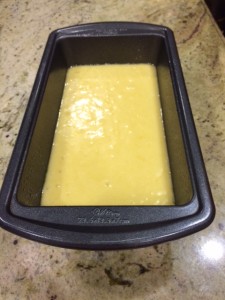 6. When the cake is done, remove from the oven and place on a wire rack for at least 10 minutes.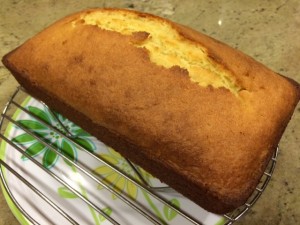 7. With a rubber spatula, run the sides of the loaf to loosen the loaf from the pan. Carefully invert
the loaf onto a plate first and then invert onto the wire rack. If it does not come out the first time,
loosen again with the spatula. Otherwise, the loaf might break. Allow to cool fully (about an hour) then
place in the fridge for at least another hour. This helps the icing to stick better to the loaf.
Otherwise it will slide off of a warm loaf.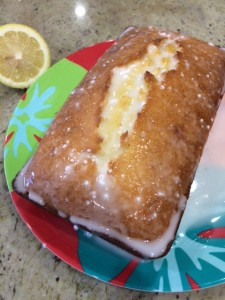 8. Make the icing by combining the sugar, 1 tablespoon of the milk substitute, and the extract in a small bowl. Add more milk if necessary. Glaze should be thin enough to pour but not watery. Whisk until it is smooth and no lumps appear (woops). Pour this over the cooled loaf and place back into the fridge for about 15 minutes or until it sets.
9. Cut, serve, and eat!