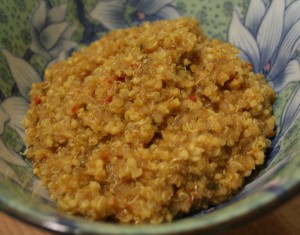 Once dietary staples of the various civilizations described in our children's history books, ancient grains are making a comeback. And the good news is they're not only packed with valuable nutrition, six out of nine of them are naturally gluten free. Ancient Harvest recently sent me a few samples.
The "Spanish Style" blend of Quinoa, Millet & Amaranth does a great job of combining high-quality with convenience. The organic, nutrition-packed grains come pre-washed so you don't have to rinse off the bitter residue that naturally coats them. The box also comes with a flavor packet that is mild, reminiscent of some Spanish flavorings such as cumin and smoked paprika and, perhaps best of all, not overloaded with salt and preservatives like a lot of prepackaged food!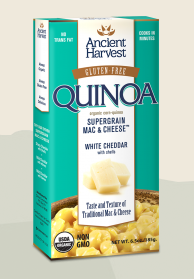 The dish stands up as a hearty side that can be served with chicken and steamed veggies (for example), dressed up with your own fresh tomatoes and bell pepper or simply added in place of rice in your tacos or taquitos.
We also sampled "Sea Salt and Herb" which I liked but would describe as something targeted more for an adult taste. It was slightly spicy and I would suggest pairing it with an oregano chicken with kalamata olives and diced tomatoes.
The company makes a whole host of products from breakfast cereal, polenta dishes and mac and cheese. The quinoa-based pasta in the Supergrain Mac & Cheese (I sampled the white cheddar) has a bit of a nutty taste that may not resonate with some taste buds but the cheese is creamy, comforting and flavorful. If you are gluten-free but can have dairy this is a good option. Just be sure not to let the pasta simmer too long or it will go mushy!
All of Ancient Harvest's products are organic, certified gluten-free and made in a dedicated gluten-free facility. As far as I'm aware all of their products are vegetarian and many of them are dairy-free, vegan and Kosher–making them an excellent healthful food choice suitable for a variety of diets.