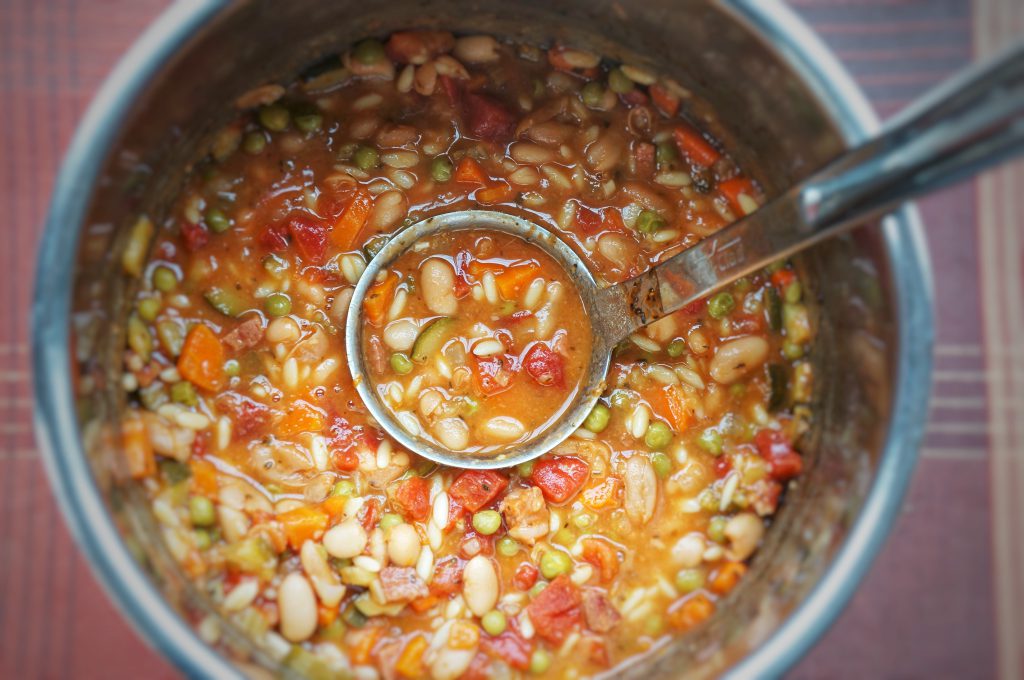 When I think of this white bean soup, also known as pasta e fagioli, I think of my mom. Growing up, this was my comfort food. If you've ever wondered how to make gluten free white bean soup in the Instantpot, aka electric pressure cooker, you have come to the right place. It's important when cooking pasta in the Instantpot to do it at the very end; otherwise it will be very overcooked.
What is pasta e fagioli, literally? Pasta with beans. "E" means with and "fagioli" means beans in Italian; the singular "bean" is fagiolo. When I was growing up, my mom used a ham hock/bone and dried beans. These days, I cut some corners by using canned beans, boneless ham, and the real time saver, the electric pressure cooker!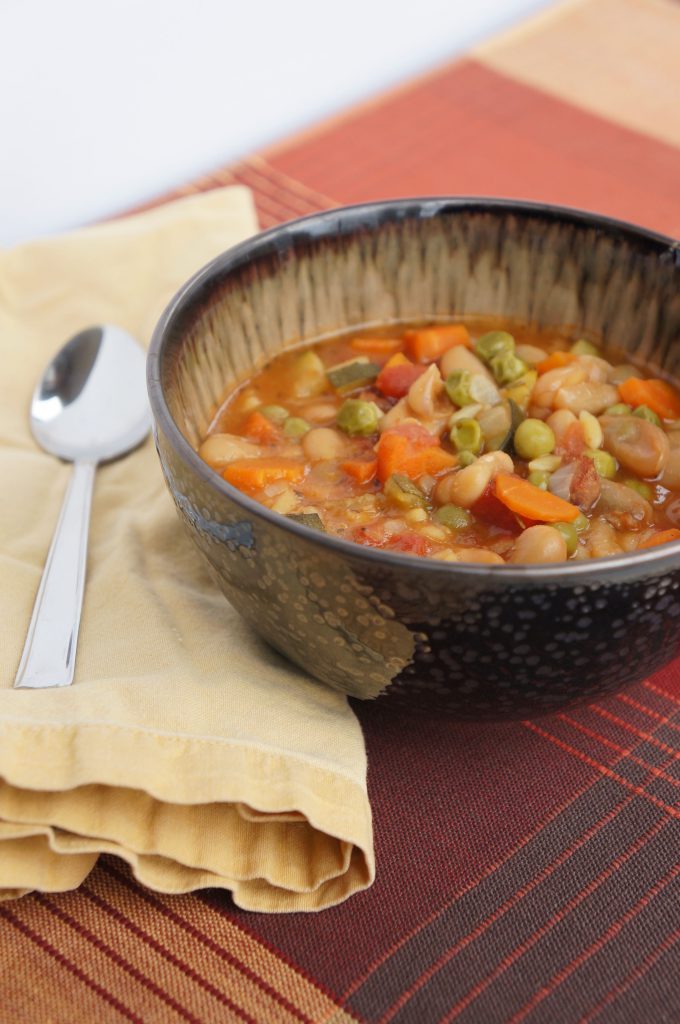 And the best part is that it's easy to make it gluten-free; use gluten-free pasta and just make sure the broth and ham are as well. Check your spices, too. So let's get to it. Here is the recipe for white bean soup in the Instantpot.
Gluten Free White Bean Soup Recipe in the Instantpot (Pasta e Fagioli)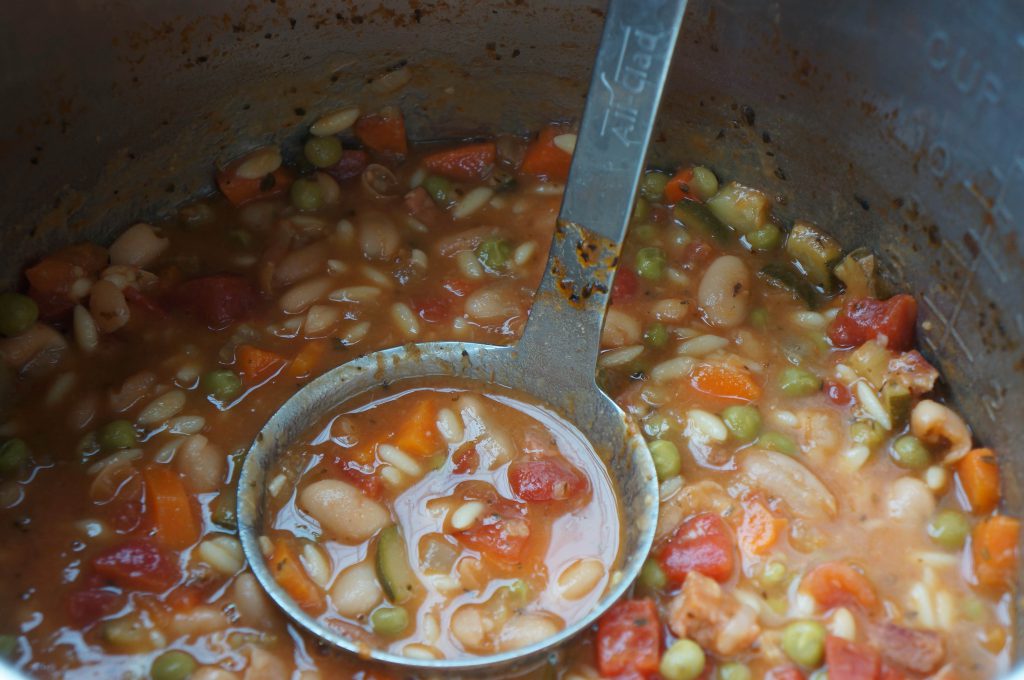 (Pasta e Fagioli) 
Serves 3-4 

2 teaspoons olive oil
1/2 onion, diced
2 carrots, peeled and diced
2 celery stalks, diced
1 medium zucchini, diced
1/2 teaspoon sea or kosher salt plus more at the end
1/4 teaspoon ground pepper
1/2 teaspoon each oregano and thyme 

1 cup or 8 ounces chopped ham (can leave out for vegetarian) 

2 cloves chopped garlic
3-4 cups gluten-free chicken or vegetable broth 

2 15-ounce cans white beans (e.g. cannellini), drained and rinsed 
1 14.5-ounce can diced tomatoes, undrained (save can; see instructions)
1/2 cup dry gluten-free small pasta like shells, elbows, or orzo 

1/2 cup frozen peas

Optional Ingredients:
2 cups chopped spinach or some type of leafy green, like chard or kale
Garnish: grated Italian cheese, parsley and/or pesto.
Heat Instantpot to Sauté. Add oil, then add onion, carrot, celery, zucchini, salt, pepper, oregano, and thyme. Cook for a few minutes, stirring occasionally, making sure the vegetables don't burn but that they are browning. 
After a few minutes, add the ham and stir. Continue cooking about 3-4 more minutes. Turn pressure cooker off. Immediately add garlic and cook for 1 more minute. This is so the garlic doesn't burn.
Add chicken broth (start with 3 cups), both cans of white beans, and diced tomatoes. Fill the diced tomato can halfway with water and add to the pot. Stir to mix all of the ingredients. There should be enough liquid that it shouldn't look dry but not watery either. 
Make sure the ring on the lid is in the correct position. Put cover on Instantpot and make sure it's set to Sealing.
Turn pressure cooker to Soup mode for 7 minutes. Once finished, wait 10 minutes then quick release.
Add dry pasta and peas. Stir. Add additional cup of broth. Put cover back on and set to Manual for 1 minute. Once finished, wait 5 minutes then quick release.
If using, add chopped spinach or greens and stir; let rest 5 minutes.
Taste and adjust seasonings. 
Optionally garnish each plate with grated Italian cheese, parsley and/or pesto. 
Tip: For easy prep, use frozen chopped spinach that is sold in a bag. Frozen chopped spinach in a box must be thawed first. Cut spinach pieces might be too big but can be used. You can always use raw chopped spinach.