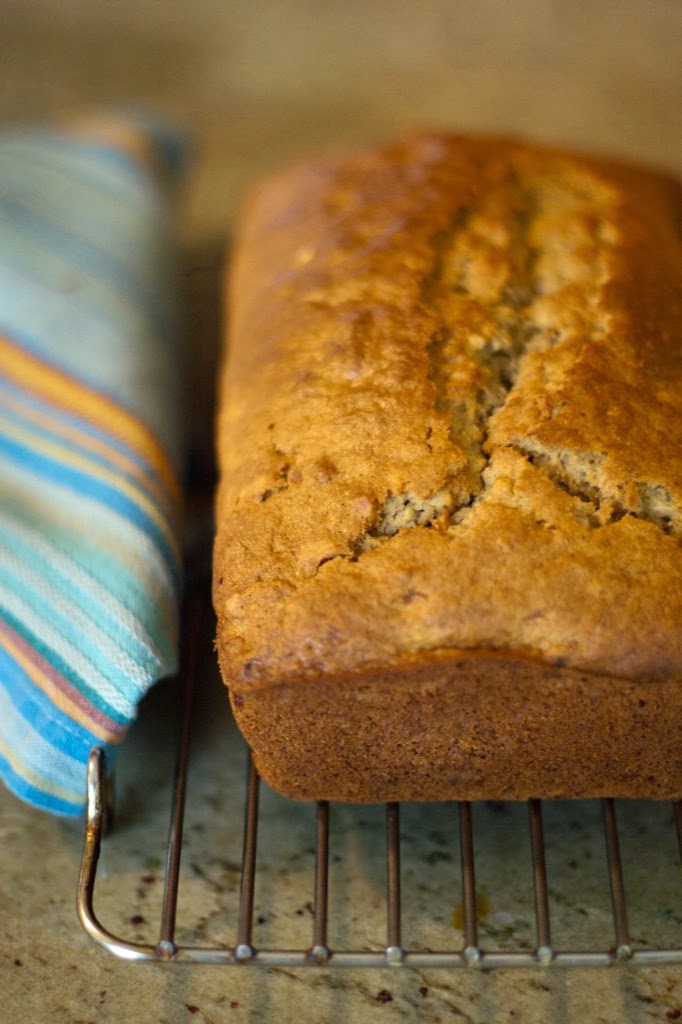 While it may have been one of the stars of the pandemic early days, banana bread is a classic. But finding an easy gluten-free banana bread recipe isn't always easy. So, I'm here to help! Elevating over ripe fruit to a sweet, banana-rich treat will never stop being gratifying. This recipe is both easy, quick, and results in a delicious product. Using a flour blend that isn't too gritty is key. So try to stick to the blend I use or something similar. Otherwise, I can't guarantee it will come out the same. Also, it's an easy recipe to make dairy-free. See the substitutions in the ingredient list. For egg-free, visit my post on how to use egg substitutes.
I have also made a paleo version you can find here (see photo below).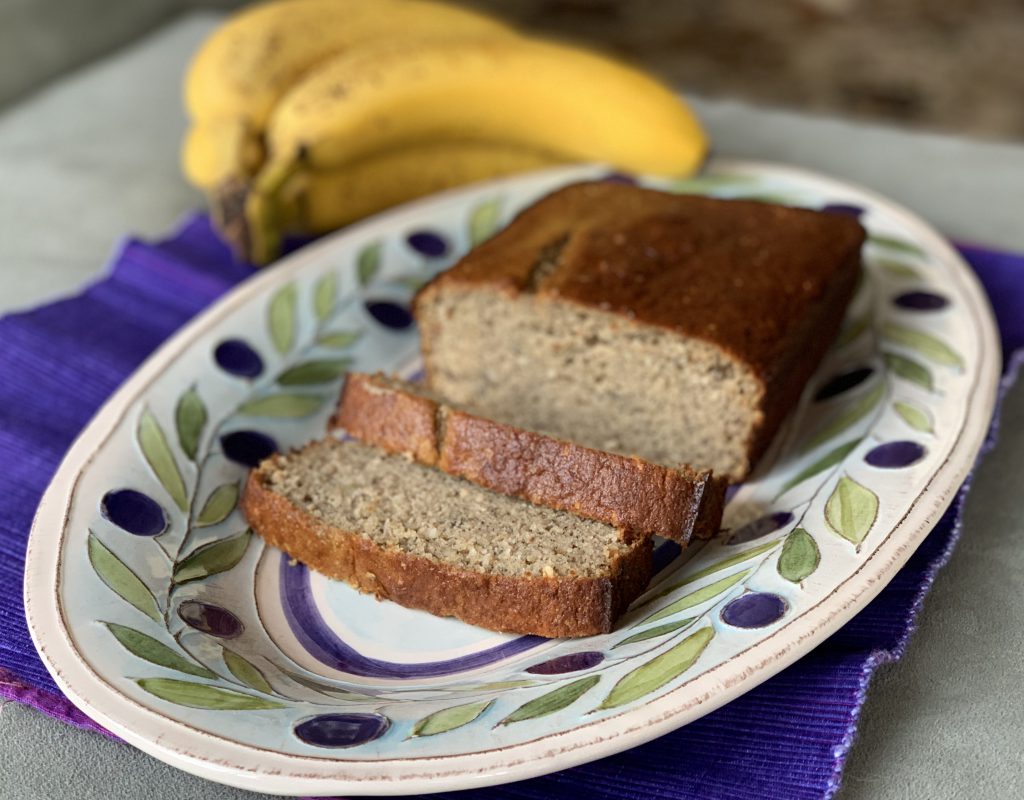 The recipe below was adapted from a banana muffin recipe in my cookbook, The Warm Kitchen. If you prefer baking muffins instead of preparing a loaf, adjust the oven temperature to 375 degrees and cut the baking time to 20 to 25 minutes. See my note about checking for doneness in step 6.
Ingredients:
2 cups Amy's Gluten-Free Flour Blend (this is a blend I make at home)
2 teaspoons baking powder
1⁄2 teaspoon baking soda
1⁄2 teaspoon kosher salt
1⁄2 teaspoon cinnamon (for flavor)
1⁄2 teaspoon xanthan gum (omit if your flour mix already has it)
1⁄8 teaspoon ground ginger (to maintain freshness; add 1/4 teaspoon for flavor)
2 large eggs
1⁄3 cup melted butter or vegetable oil
2⁄3 cup milk or milk substitute
1⁄2-3⁄4 cup white or brown sugar or other sweetener
1 teaspoon vanilla
2-3 ripe, mashed bananas
Optional ingredients that can be added to batter:
1⁄2 cup chopped nuts (walnuts or pecans)
1⁄2 cup shredded unsweetened coconut
1⁄2 cup semi-sweet chocolate chips.
Directions:
1. Preheat oven to 350F and grease a loaf pan or use parchment. My pan is about 9″x2″x3″.
2. In a large bowl, mix the dry ingredients (first 7 ingredients) with a whisk.
3. In a smaller bowl, mix the eggs, then add the butter or oil, milk, sugar, vanilla and banana with the same whisk.
4. Add the wet ingredients to the dry ingredients and mix until combined with a rubber spatula. Add any optional ingredients. Mix the batter briskly for 5 seconds to help the batter to gel.
5. Pour your batter into the pan, filling about 2⁄3 full.
6. Bake for 35 to 40 minutes. Test for doneness by pressing your finger into the loaf. When it springs back, it's done. If it leaves an indentation, continue to bake and test in 1 to 2 minute intervals. If the bread is becoming dark and it's not done, lower the temperature to 325F.
7. Cool in pan at least 30 minutes before cutting. Enjoy!