Here you'll find a Paleo adaptation from a recipe in The Warm Kitchen. I've been experimenting with Paleo a lot more  lately and I find that it's a way of eating that really resonates with me. You can expect to hear more about my adventures with Paleo in an upcoming blog post, but in the meantime, here is a great recipe for Paleo Meatball Stroganoff. I promise you won't even miss the noodles!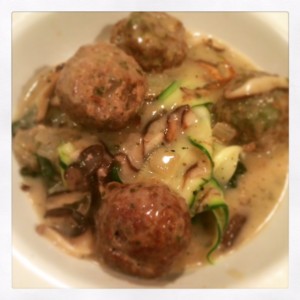 Meatballs
Makes 12-14 medium or 20-25 small meatballs
2 large eggs
1 teaspoon salt
1/2 teaspoon pepper
1/4 teaspoon garlic powder
Scant 1/8 teaspoon ground nutmeg
1 ½ lbs natural, grass fed ground beef
¼ – 1/3 cup onion, minced
½ cup almond meal (not flour; I used the dehydrated meal leftover from my almond milk)
About ¼ cup homemade almond or coconut milk
Pre-heat the oven to 375 F. Line a sheet tray with foil.
Mix eggs and seasonings with a fork or whisk. Add remaining ingredients except milk and mix. Add about 2 tablespoons of milk and mix with your hands until well incorporated. If the mixture seems dry, add more milk.
Roll meatballs that are about 1 1/2 inches in diameter, about the size of a golf ball.
Place on the sheet tray and bake for 20-25 minutes until golden brown and no longer pink inside and/or 165F.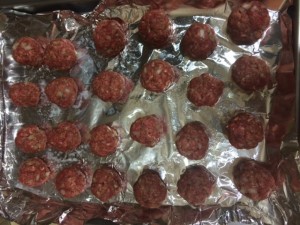 Paleo Stroganoff Sauce
1 tablespoon coconut oil or ghee
½ onion, diced
¼ – ½ teaspoon ground black pepper
1/8 teaspoon nutmeg
½ lb shitake or crimini mushrooms, wiped clean, de-stemmed and sliced
½ teaspoon sea or kosher salt
1 ½ cups bone broth (I used chicken)
½ can full-fat coconut milk
Slurry: 1-2 tablespoons arrowroot flour + 1-2 tablespoons cold water
1-2 zucchini, peeled into thin strips (like noodles using a vegetable peeler)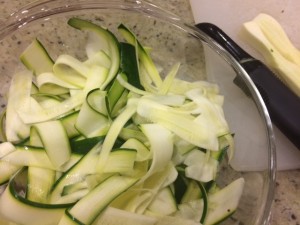 Optional: 1 tablespoon dried parsley for garnish
In a large, high-sided saute pan, heat oil or ghee over medium heat. Add onion, pepper and nutmeg. Cook until just turning brown.
Add mushrooms to pan, a little at a time, and cook until brown. If mushrooms are getting dry, add a pinch of salt.
Add broth and milk, and cook until it just starts to simmer but do not boil. If you boil the mixture, the milk might "break" or look curdled.
Meanwhile, make the slurry. Mix water with arrowroot until smooth with a small whisk or spoon.
Add slurry to heated liquid and whisk. Stirring every few minutes, cook 4-6 minutes or until thickened and the starchy texture is no longer present in the sauce. Add more slurry if sauce is not thick enough.
Add meatballs and simmer 10-15 minutes stirring occasionally. While the meatballs are simmering, cook the zucchini noodles by either steaming or placing in boiling water for about 2-3 minutes.
Serve meatballs over drained zucchini noodles. Optionally, garnish with chopped parsley.