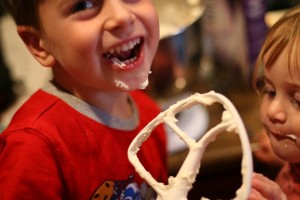 As many mothers say, it seems just like yesterday when your children were born. My youngest turned 2 recently. I have started a tradition to make their birthday cakes.
I always think of the cakes as being 'silly' but maybe the term should be festive. My mom made my cakes when I was growing up as well. The difference is she didn't have 2 cameras and a video recorder to capture it all!
Making a cake from scratch isn't hard. However, it does take time, the right ingredients, some essential tools, and a dash of patience. The end result will more than likely taste better (or at least be easier on your pocketbook). Any home cook should be able to do it with some training.
When it comes to a recipe, I'm not going to bother posting one. Use a recipe from some of the classic cookbooks like "The Joy of Cooking" or "Better Homes New Cook Book". These basic cookbooks are some of the best.
If you normally open a box to make cake and a can for the frosting, I can teach you a thing or two! Here are some of my favorite photos from my cake making adventures: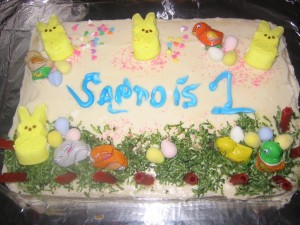 The cake's theme was a farm. The green colored coconut was fun and I used licorice for the "fence". There were bunnies and chicks and eggs, too. This was a basic vanilla cake that was just yummy.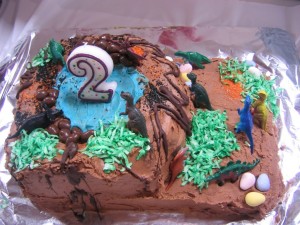 The dinosaur cake was a blast to make…the center was supposed to be a volcano that had a lake in the middle. The 2 year olds loved it. There's the green tinted coconut again!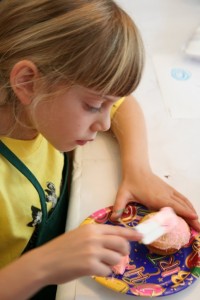 Siena frosts her cupcake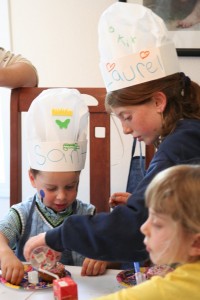 Laurel assists with cupcake decorating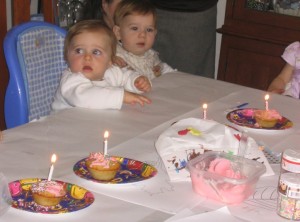 Each child had their own cupcake, decorated it with my famous homemade frosting and then added a variety of sprinkles. I put candles in everyone's cupcake so they all got to blow out their own candle. Another big hit, especially for young ones who don't understand when someone else is blowing out the candles and not them.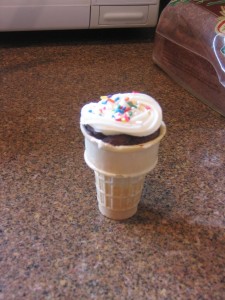 Another party; cupcakes baked in an ice cream cone, topped with frosting.
The ladybug cake (or as my husband calls it "ladybird"!)
For this next set, my 3 1/2 year old son helped with the design! Here it is, from assembly to finish. Also, this is my first gluten-free cake to make for a crowd. There was one piece left!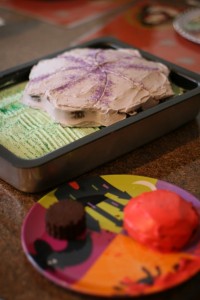 The base was a 13×9 vanilla cake with green frosting and sprinkles for the grass. Then a flower shaped chocolate cake was put on top. I used a smaller round cake for the ladybug; I cut out the larger circle with a glass and the smaller piece with a biscuit cutter.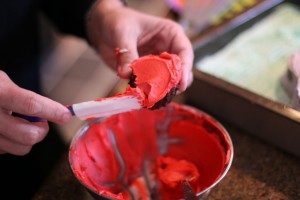 The trick for really red frosting is using Wilton concentrated gel paste.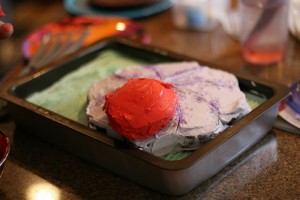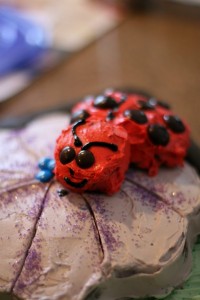 The ladybug on the flower!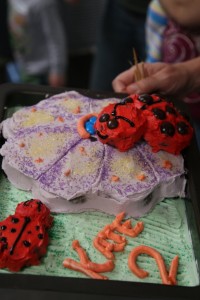 The competed product.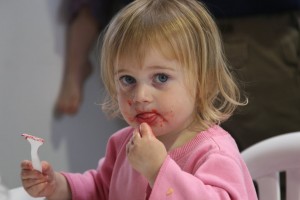 Another happy customer!