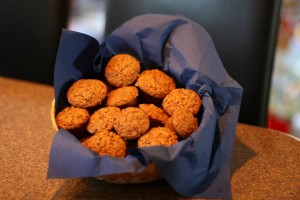 Dealing with food allergies and sensitivities can be a difficult and frustrating experience, especially if it's for children. My daughter was diagnosed with a multitude of food sensitivities that we think are associated with her eczema. It forced me to rethink meals, snacks and parties.
After living with it for over 6 months, talking to various people and reading different web sites and blogs, I have found some great substitutes. The following recipe is one of my favorites. Whenever I've brought these muffins to a party or playgroup, no one can even tell they are gluten free. This is a real compliment!
One of my best resources this past year has been my friend Amy Andrews. You can check out her blog here. She provided me with the following gluten free flour substitution. I have found it to be very effective for baking:
3 cups brown rice flour
1 1/4 cups millet flour
3/4 cup tapioca flour
Put this in a bowl and combine with a whisk. Transfer to a container, like a qt sized mason jar. Use this as a flour substitute; it works great. For every 2 cups, she suggests adding 1/2 tsp of xantham gum.
Another advantage to this recipe, is that it has many uses; have it for breakfast, a snack or even use as a cupcake at a party. You could bake it as a carrot cake but use a different pan, increase the cooking time to 45 minutes. It's always been a hit in our house, even for the non-gluten free crowd! I hope you'll try it. Keep scrolling; there are some great pictures below.
Gluten-Free Carrot Muffins
1/2 cup oil
1/2 cup white sugar*
1/2 cup brown sugar
2 eggs
3 tablespoons water
1 1 /4 cup gluten-free flour substitute (see above)
3/4 teaspoon baking soda
1/2 teaspoon baking powder
1 teaspoon cinnamon
1/2 teaspoon salt
1/2 teaspoon xanthan gum
1 cup raisins
1/2 cup chopped nuts (optional)
1 1/2 cups packed grated carrots (about 4 medium carrots)
Optional: 1/2 c shredded coconut (I use unsweetened)
1. Preheat oven to 325 degrees.
2. In a large bowl, combine oil, sugar, and brown sugar. Mix well. Add eggs and water, and mix.
3. In another bowl, combine dry ingredients. Mix well then add raisins, making sure they are coated with flour.
4. Mix flour mixture into wet ingredients, then carrots. If using nuts and/or coconut, add with the carrots.
5. Pour batter into greased muffin tins. Bake 18-22 minutes, until toothpick inserted in center tests clean**.
*Note: you can decrease the sugar if you would like. I haven't done it yet, but I would imagine agave nectar would be a great sub or you could use all brown sugar (but probably less).
**Note: gluten-free baking is different from traditional baking. I have found that GF baked goods need longer cooking time, even if the toothpick comes out clean.
After I made the muffins, I shredded another carrot (per the request of my almost 4 year old). I couldn't resist sharing these. They crack me up! But it goes to show that you should never make assumptions about what they will eat. How many of you would give your children shredded raw carrot for breakfast? I never thought I would but the proof is in the pudding…or maybe the muffins!