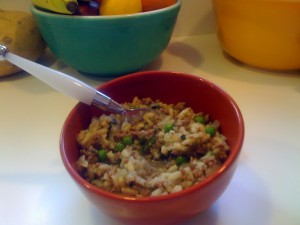 I was asked recently for my "signature dish". That was a tough one. I have a few that I find I make over and over that would qualify. But when it came down to it, I thought about what it is I feel I represent; easy, nutritious and delicious meals that can feed the whole family.

Although I'm providing the recipe, it always helps to watch someone make it. I'm going to include it in my "Easy Weekday Meals" class. If you are interested in hosting or attending a class, please let me know.
I like this dish because I can get home at 5:00 and dinner is on the table by 5:45. It's easy and covers my protein-starch-veg dinner goal. My mom made a variation of this for me when I was young so when I eat it, it brings back memories. I hope my children will say the same thing, and maybe yours will, too!
Beef Saffron Risotto
Serves 4

1-1 ½ lbs of natural, grass fed ground beef (like Niman Ranch)
1 Tbl Olive oil
1 medium onion, chopped (or ½ large)
¼ – ½ tsp pepper
1 garlic clove, minced
½ tsp salt
Few strands of saffron
1 cup of Arborio rice
4 cups of organic chicken broth, heated to just boiling
1 cup frozen peas, slightly thawed
Heat large pot to med and add ground beef. Press into pan and allow to cook for a while before you turn/stir so you get some browning. Add pepper.

After a few minutes, stir and cook until there is no more pink. Remove from pot and drain fat.

In the same pot, add olive oil and heat to medium. Add chopped onion and cook until translucent. Add garlic and cook 1 minute.

Add beef, salt, and saffron threads and stir. Add rice and cook for 1 minute.

Begin to add hot chicken broth, 1/2 cup or more at a time. Stir every few minutes and add more broth when needed. Make sure rice is simmering but not boiling. Check after 20 minutes or when broth is used up. If you need more liquid, just add hot water.

Add peas and stir. Cook for 3 minutes or until heated through.

Garnish risotto with freshly grated cheese (please, nothing out of a can!). Taste and season with salt and pepper if needed.
Tip: You can substitute ground turkey or pork for the beef.