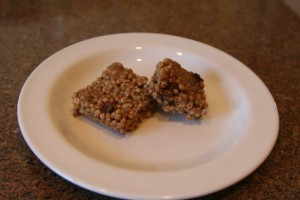 Don't get me wrong. I LOVE rice krispie treats and would eat them everyday if you gave me the opportunity. But now, as a mom, I evaluate every snack and although I do allow my children to have special treats, I try to avoid a lot of processed food and especially things made with refined sugars. When I do make rice krispie treats, I use brown rice cereal instead. I really like Barbara's brand.
If you know me, you know I make a lot of my evaluations by reading labels. Here are the ingredients of the brown rice cereal: Organic Whole Grain Brown Rice, Organic Fruit Juice Concentrate (Apple, Peach, Pear or Pineapple), Sea Salt.
If you look at the label of Kellogg's Rice Krispies, here are the ingredients: Rice, sugar, salt, high fructose corn syrup, malt flavoring.
By the way, my doctor recommended avoiding products with malt flavoring because they are known to contain gluten. One more thing to worry about.
There are 3 reasons I buy the Barbara's cereal which I think you should consider as well when comparing brands:
Look for whole grains-the difference between white and brown rice
Look for higher levels of fiber (this goes hand in hand with the whole grain)
Avoid high fructose corn syrup
Ok, this post isn't even about that so let me move on. I'll address high fructose corn syrup another time.
Because of my daughter's gluten sensitivity, I buy different cereals now. One cereal we all like is Perky's Nutty Flax. On the box, there is a recipe for Perky's Nutty Power Bars. I made the recipe once (of course not following the directions at all!) but I did like it. I made it again with some adjustments.
And here's how I look at it when I give it as a snack. It's a whole grain product, no refined sugar, good fat from the sunflower or nut butter…not too bad. Yes, a half of a cup of raw carrots would be better but I'm comparing this to a store-bought cereal bar or cookie.
Now, as for flavor, it seems like everyone likes these; moms, kids and even picky toddlers! Remember with every recipe, the first time you make it, it might seem hard but make it a few times and you won't think about it. I hope you like it.
Flax Cereal Bars*
1/2 cup Sunflower or Nut butter**
1/3 cup brown rice syrup (I only found this at Whole Foods)
1/4 tsp vanilla
pinch of salt
1/2 box Perkys Nutty Flax Cereal
1/4 cup chocolate chips (I like Guittard)
1/4 cup chopped nuts (I used pecans)
*(I found that the whole recipe is too much so I cut it in half)
**(I've made with sunflower and cashew butter; both are good and you can get either at Trader Joes')
Heat first four ingredients over low heat. Mix with a whisk until combined and smooth. In a large bowl, combine cereal, chips and nuts. Add syrup mixture and mix well until combined. Press into a greased 8″x8″ pan. Let cool before cutting. Cut into 2″x2″ squares.
I think she likes it…