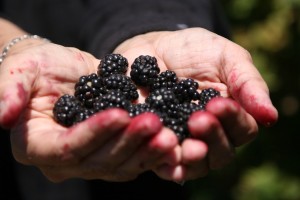 Some of you might understand this; others might think it funny. Today, while I was in my exercise class, during one of the hardest parts, all I could think about was this crisp I was going to make later that day. I thought about the berries, so ripe and juicy. I thought about how I was going to take the perfect recipe I had used in the past and adapt it to gluten-free. I thought about whether I should serve it with whipped cream or ice cream. All of this while I had about 40 lbs on my back, doing squats to some great music (thank you Jodi and Joe from Fit Studio!). All I have to say is that I earned every bite of that crisp.
Olallieberries are only in season a short time (mid-June through mid-July) so I actually had to schedule our picking. We are trying to make it a family tradition to do every year. Well, it happened that some friends of ours asked us to dinner on the same evening. What better way to enjoy these delicious morsels than to share them with friends?! I decided to make a crisp. But, with my daughter's gluten-sensitivity, I had to adjust the recipe a bit. Plus, I've been trying to use slightly healthier ingredients when baking.
Now, here's a secret. When I want to cook something new, I usually look at 2-3 recipes, review the ingredients and the technique. I then take the best of the best, so to say, and design my own. That's how I created the original crisp recipe. For the gluten-free version, I checked my favorite blogs but felt like the best was the original. I did, however, get a great tip about how to incorporate the butter and flour. It's in the recipe below.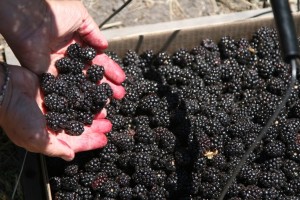 I had my recipe now all I needed was my berries! We are lucky to live so close to a fantastic "u-pick" berry farm, Swanton Farms, at the Coast Waves Ranch location. The first time I went was 2 years ago when my son was 2 and daughter 7 months. That day was particularly memorable because the three of us had such a good time together. I was picking berries while my son "helped". At some point, I said to him "You know, you can eat them." And basically after that the picking stopped and he ate his way through the rows! So yes, bring the kids and maybe even a picnic lunch.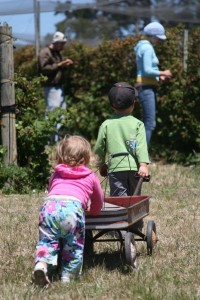 Last year when they were older, it was even more fun. And now, I'm getting really good at it. The trick is to find a row with a good amount of dark berries, usually ones furthest from the cashier. Look for dark purple, almost black berries, that are plump. Pull gently. If it does not come right off of the stem, leave it to ripen a bit longer. When you get home, rinse gently with water. Pat dry and either place in a shallow container in the fridge, or freezer bags, keeping them as flat as possible so as not to crush the other berries. Use in pies, crisps, jam, shakes and muffins.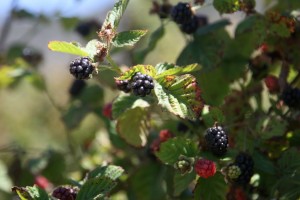 Now some of you, especially those from the east coast, might be saying, what is an Olallieberry?? Personally, I had never heard of them prior to about 5 years ago. According to some research I did, the olallieberry is a cross between a blackberry, loganberry and youngberry, originated in 1949 in Oregon, but mostly thriving in California — especially on the coast.
Ok, now let's get cooking, or really baking. I thought it would also be helpful to break this recipe down a bit, since I'm providing the gluten-free variation.
The Filling:
Crisps are very versatile. You can use a mix of fruits, more or less berries and vary the sugar. Really; don't be scared to do it! Most recipes call for about 4 cups of fruit to fit into an 8″x8″ pan. For that amount, I use about 1/2 cup of sugar. If the berries are sweet or if you like your crisp a bit tart, you can use 1/3 cup. You need something to thicken the berries. Most recipes call for flour but I used corn starch (but less of it). You could also use tapioca flour.
The Crisp Topping:
This is a combination of oats, flour, butter and sugar. Same rules apply. Use less sugar if you'd like. You could probably even substitute canola oil for some or all of the butter. This recipe can be used with apples, blueberries, peaches, etc.
I really hope you'll try one of these recipes! I would suggest serving with vanilla ice cream (regular or soy) or fresh whipped cream. Enjoy summer and the berries that define it.
Olallieberry Crisp
Filling:
* 4 cups olallieberries, cleaned and stemmed (or you can substitute blackberries)
* 1/2 cup sugar
* 3 Tbl all-purpose flour
Crisp Topping
* 6 Tbl
unsalted butter
, cut into one-half-chunks (see note below)
* 3/4 cups packed
brown sugar
* 2/3 cup all-purpose flour
* 1/2 cup rolled oats
* 1/4 tsp salt
* 1 tsp ground cinnamon
Preheat the oven to 375 degrees. Butter or spray a 2 to 2-1/2 quart baking dish. Make the Crisp Topping and set aside. Mix the berries, sugar and flour and toss gently so as not to break the berries. Transfer the berry mixture to the buttered baking dish and cover with the crisp topping. Place the baking dish on a baking sheet in oven (to catch any juices that might spill during cooking) and bake until the top is well browned and the berries are tender when pierced with a knife, about 45 minutes.
Note: You can try this trick for the butter if you'd like. Freeze the butter for at least an hour. When ready to prepare the crisp topping, remove the butter from the freezer and "grate" the butter into the flour mixture using a microplane. I tried it and it was a great way to mix the butter into the flour.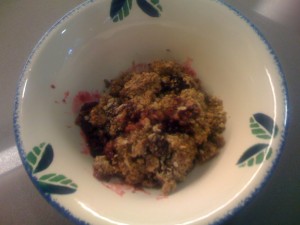 Gluten-Free Olallieberry Crisp (seen above, with some slightly healthier variations)
Filling:
* 4 cups olallieberries, cleaned and stemmed (or you can substitute blackberries)
* 1/3 cup organic white sugar
* 2 Tbl cornstarch
Crisp Topping
* 4 Tbl unsalted butter, cut into one-half-chunks
* 6 Tbl ground flaxseed meal (this is used to replace some of the fat)
* 3/4 cups organic brown sugar (or try succanat)
* 2/3 cup
gluten-free flour mix
* 1/2 cup gluten-free
rolled oats
, like
Bob's Red Mill
* 1/4 tsp salt
* 1 tsp ground cinnamon
Follow instructions above.