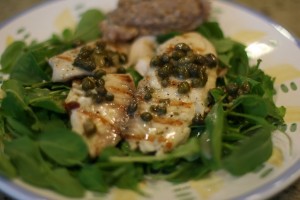 Grilled Fish with Lemon Caper Sauce on a Bed of Organic Arugula
Does this dish sound like something you would order in a restaurant? Well it might but you can make it at home without a lot of fuss. And you might think it strange but my 2 and 4 year old both ate the fish and sauce. The arugula was a little spicy for them but at least they tried it.
When I think about good food and what I like, I realize it's generally simple. That's my new motto. I don't have time to be in the kitchen for hours. It's got to be quick and easy. I have to admit, when I cook, I don't often measure. I really do it because I don't want to pull out the measuring cups or spoons, let alone have another thing to wash.
Let yourself go in the kitchen! Try to estimate by eye how much is a tablespoon of oil or half a teaspoon of salt. Look at a recipe and get the essence of the technique. Determine if a recipe is simple or just too complex. Sometimes I don't follow the recipe but I use the ingredients. That works for me.
A friend of mine has recently moved to Spain for 2 years. She sent me an email the other day about a delicious lemon caper sauce her 8-year old daughter made. Apparently, it was so good, her other daughter, who is 10, was licking her plate. In the email, she included the ingredients but not the amounts. I had asked for the recipe but with the 9 hour time difference, I hadn't received it yet. So, I did what I encourage you to do; I winged it (wung it?).
I had envisioned this sauce over fish but it would also work with chicken or even plain pasta. Earlier in the week, I had gotten some arugula at the farmer's market. I spotted some nice white fish in the grocery store, and, shazam, this dish came together. I think my mouth started to water a bit, too.
When it was time to get dinner ready, I started with the fish. A little olive oil, salt and pepper, and a hot grill pan; that's all I needed. While the fish cooked, I prepared the sauce. I finished the fish by placing a large pot cover on top to steam it a bit and make sure it was cooked through. I had already washed the arugula so it was ready to go. When the fish was done, plate assembly was easy: arugula, fish, sauce. The flavors went together so well. I was really in heaven. My husband barely looked up when he was eating, always a good sign of a tasty dish.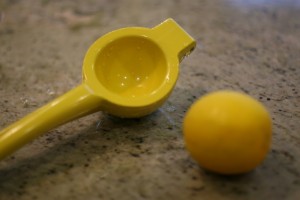 Ok, so lets give you that sauce recipe. That's what you really need. I described the fish technique above. I also want to share with you one of my favorite products. I love using this lemon squeezer; it really gets out all of the juice and leaves the seeds behind. To get out even more juice, your lemon should be room temp. If you just pulled it from the fridge, place in the microwave for 10-15 seconds. Then, roll the lemon on the counter. Once you've done this, cut in half and get that juice out. If you don't have an official juicer, squeeze the juice over your other hand to catch the seeds. Sure you have to wash your hands but they will smell very nice.
I hope you'll try the recipe and most importantly, enjoy it as much as we did. I used to say to my cousin about cooking "Luke, use the force." She didn't think it was that funny. Find your inner chef. Just try it.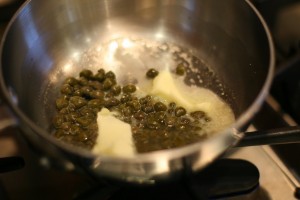 Laurel & Siena's Lemon Caper Sauce
Serves 3-4 servings of sauce

Juice of 1-2 lemons
1 garlic clove, minced
1/2 – 1 tsp Kosher or sea salt
2-3 tsp of capers, drained
4-8 Tbl unsalted butter
Add lemon, garlic, capers and salt to a small pot. Bring to a simmer. Add butter, 1 Tbl at a time and whisk until melted. Add enough butter to taste or until proper consistency is reached. If you want less fat and more sauce, add broth (vegetable or chicken) and thicken with cornstarch if necessary. I don't make this everyday; I like to use the butter!