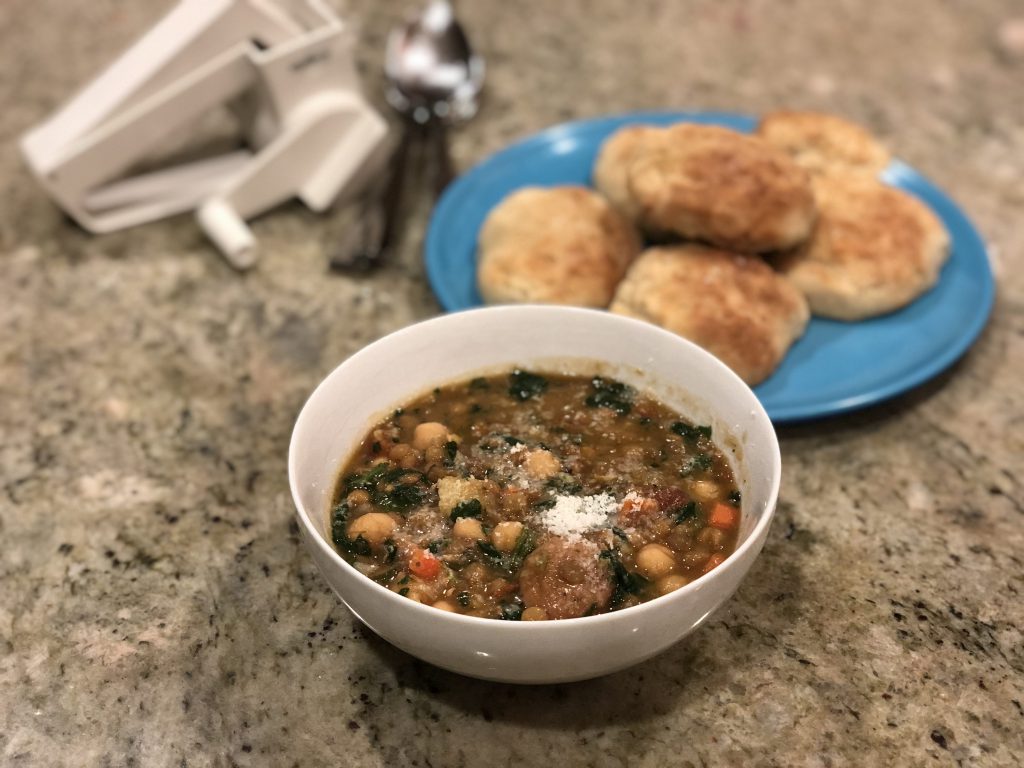 I made this Instantpot lentil stew this week (it had some sausage as well). It was so good (and easy) I had to write about it! The recipe is designed for an electric pressure cooker but you could make it on the stove top; the big difference is that it would take longer. If you are in the market for a new electric pressure cooker, I would recommend* the 7-in-1, 6 quart. I've had it for 4 years and love it.
*This post has affiliate links which does not affect your price but does help to pay for part of the maintenance of this blog. Thank you in advance!
About the Equipment
Once everything was cut, it came together quickly. Electric pressure cookers usually save you about 50% in cooking time. So, if I set this stew to cook for 18 minutes (probably 35 minutes start to finish), it would have taken 60-75 minutes!
The two other things I love for cooking are my mesh strainer and fancy cut-from-the-top smooth edge can opener, both by OXO. This is not a sponsored post for OXO! However, I do want to tell you that I love every OXO product I own. I have had both of those kitchen tools for over 10 years.
About the Ingredients
If you look at this recipe and think, but I don't have these ingredients in my pantry right now, it's ok. What you need to make this yummy lentil stew recipe are the following:
some veggies (onion and carrot or celery I think are key),
the right proportion of lentils and broth/water,
and seasoning (salt and pepper at a minimum).
Some other options: omit the sausage and use veggie broth to make it vegan. Add small cooked pasta or rice at the end. Change the flavor profile by adding curry powder instead of Italian seasoning.
Time Saving Tips
Next, let's talk about the timing. Sure in a perfect world we would cut up all of our veggies (mise en place!) and then start cooking. That's not always realistic, especially on a busy weeknight. I would suggest cutting the onion and sausage first. Get that started on sauté mode. While that cooks, cut up everything else, and rinse and drain both the lentils and garbanzo beans. And make sure to sauté the garlic with the onion and sausage at the end for about a minute before you add the rest of the ingredients.
Now, let's get to the lentil stew recipe, shall we? Unless you want a history lesson on lentils, a story about my grandmother, or 5 ways to cut an onion. 😉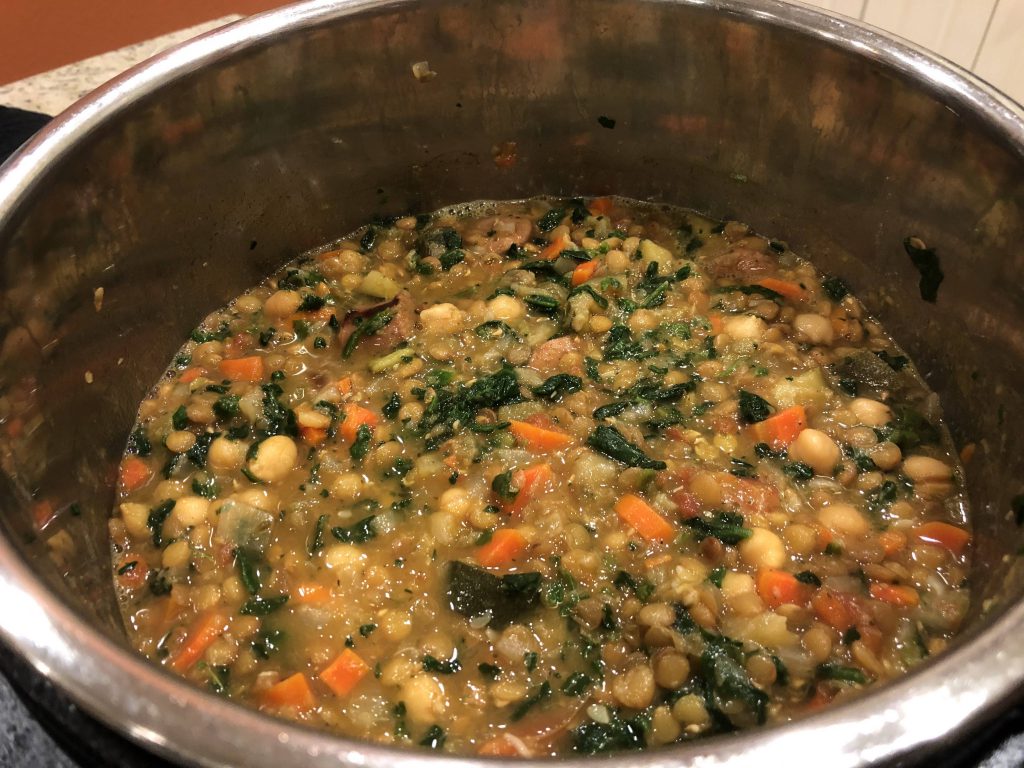 Instantpot Lentil Stew Recipe
Ingredients:
2-3 teaspoons olive or avocado oil
1 large onion, chopped
2-3 Italian sausage links, cut into 1/2″ slices (I used pre-cooked)
2-3 garlic cloves
2 stalks celery, chopped
2-3 carrots, peeled and chopped
1 medium zucchini, chopped
1 1/2 cups green lentils, rinsed and picked over for foreign objects
1 15 ounce can garbanzo beans, rinsed and drained
4 cups gf chicken or vegetable broth
1 14.5 ounce can diced tomatoes
1/2 – 1 teaspoon Italian seasoning 
1 teaspoon kosher salt plus more to taste
1/4 teaspoon ground black pepper
8 ounces frozen cut spinach, slightly thawed
Freshly grated Parmesan, for serving
Directions:
Turn Instantpot to Saute mode. Add oil to the metal bowl and allow to heat for 30-60 seconds. Add onion and sausage and stir. If you using uncooked sausage, it is not necessary to cook it all of the way; browning it will be sufficient. It will finish cooking later.
Cook until onion is golden and sausage is browned, stirring occasionally. Add a pinch of salt and the garlic. Stir. Cook for about 1 minute.
Add the broth or diced tomatoes next so there is some liquid in the pot. This prevents the onions and garlic from burning.
Add all of the ingredients except the spinach and parmesan and stir. Keep it on saute mode for 3 minutes then turn off and stir one more time.
Check lid and make sure the plastic ring is in its place and the vent is set to sealing. Place lid on top and turn to secure lock. Set to Manual for 18 minutes. The cooking time will be about 30-35 minutes.
Once stew is done, wait 10-15 minutes then quick release. Add spinach and stir. If spinach is still frozen, continue stirring until it defrosts. Taste and adjust seasoning if necessary.
Serve, topping with parmesan cheese if desired.