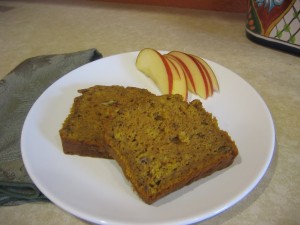 I have come to learn that gluten free (GF) products can be expensive. There is certainly a market for it. The other day, I bought some GF cupcakes and was amazed at how expensive it was (and unfortunately how dry it was, too). Later than week, I bought a vanilla cake mix and although it was less expensive than the cupcakes, it was still pricey.
In today's world, one way to help save you money is to make it yourself, whether you eat gluten free or not. I've made this recipe a number of times, both regular and gf. I've also made it as a loaf and muffins.
Remember, the key to making it easy is to have all of your ingredients on hand. Pull everything from the cabinets/fridge and put on the counter. Pre-heat the oven. Start with the dry ingredients in one bowl; mix the wet in the other. Portion into the pan or muffin tins. Check for doneness before the end of the baking cycle. For less than $3-4 dollars, depending upon where you buy your ingredients, you'll have a great snack that can even pass for dessert. I hope you'll like it.
Gluten-Free Pumpkin Bread

Ingredients:
2 cups Gluten-Free Flour Blend
1/2 tsp xanthan gum
2 teaspoons

baking powder

1/2 teaspoon baking soda
1 scant teaspoon ground cinnamon
1/2 teaspoon ground ginger
1/2 teaspoon ground nutmeg
1/4 teaspoon

ground cloves

1/2 teaspoon salt
1 can (15 to 16 ounces)

pumpkin puree

1/3 cup melted butter or veg oil
1/2 cup milk or milk sbustitute

1/3 cup brown sugar

, packed
1/4 cup granulated sugar
2 large eggs, beaten
1 teaspoon vanilla

1/2 to 3/4

cup chopped pecans or raisins
cinnamon-sugar, optional
*For regular pumpkin bread, use 2 cups of all-purpose flour and delete the xanthan gum.

Preparation:
1. Pre-heat oven to 350°. In a large bowl combine flour, xanthan gum, baking powder, baking soda, cinnamon, ginger, nutmeg, cloves and salt. Stir to blend.
2. In separate bowl, combine pumpkin, melted butter or oil, milk or half-and-half, the beaten eggs, sugars, and vanilla; mix until blended. Stir pumpkin mixture into the dry ingredients until moistened. Fold in pecans or raisins. Do not overmix.
3. Spray loaf pan with non-stick spray or oil. Pour batter into pan and sprinkle with cinnamon-sugar if desired, and bake for 25-30 minutes or until a toothpick comes out clean.
4. For muffins: Use a muffin tin. Bake at 375° for 14-18 minutes. Makes 12-16 muffins.