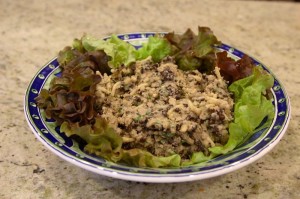 Yes, I said it; Bug Salad. No, no, it's not really bug salad. It's actually barley, lentils and pasta. If you know me, you know I love Halloween and that I love to make funny foods that might look kind of gross but always taste good. It's been fun having kids because now feel I can be a little sillier and get away with it.
I had always thought that a barley salad would be a good Halloween dish since this grain sort of looks like a bug when it's cooked. I was looking through the pantry and saw some black lentils (which look like little black balls) and red lentils. I decided to cook them all separately, adding broken spaghetti to the lentils to use as the worms. Of course, the only thing I forgot that was that when the red lentils cook, they turn yellow. Oh well. One other bit of advice is to cook everything separately; otherwise you'll have just a bunch of black things in a bowl.

NOTE: This recipe/post was done before I was gluten-free. To make this dish gluten-free, use brown rice instead of barley. Barley has gluten in it.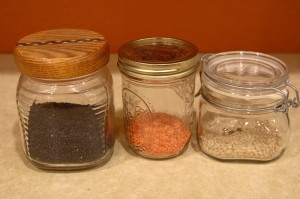 Black lentils, red lentils and barley

Here's how I did it:
Barley
In a pot, I sauteed 1/2 sliced onion in olive oil and added pepper, cumin and coriander for flavor. I then added 1 14 oz can of lite coconut milk plus another 1/2 cup of water along with 1/2 cup of barley (barley is a 4:1, water to barley, ratio). I brought this to a boil and lowered to a simmer. It cooked covered for 30-35 minutes.
For gluten-free, use brown rice. Bring 1 cup of coconut milk, 1 1/4 cups of water and a pinch of salt to a boil. Add 1 cup of brown rice and stir. Cover and lower to a simmer. Cook about 35-40 minutes or until all liquid is absorbed.

Lentils
Black lentils need less than a 4:1 ratio. I used 1/2 cup of lentils and 1 1/2 cups of water. I added it together, brought to a boil, lowered to a simmer and cooked uncovered for 25-30 minutes, when it was tender.
Red Lentils
This ratio is also more like 3:1 but I added extra water so I could cook the pasta. Now, I probably didn't need the red lentils but it did give the dish nice texture and flavor. I probably added about 1/2 cup of extra water. I also added about 1 tsp of coconut oil and some salt. Wow, did that taste good! I cooked the lentils for about 10 minutes and then I added the pasta. All of the water evaporated so I was left with cooked spaghetti in a creamy yellow sauce. Actually, that would make a nice meal by itself!
If this seems too complex, just cook broken pieces of spaghetti separately.
The Bug Salad
Once everything was slightly cooled, I mixed together and added some freshly squeezed lime juice along with some chopped cilantro. Both of my kids ate it; I think they liked the name. And it was a big hit at the party I brought it to.
On any other day, this really was a good combination of flavors. It reminded me how much I like the taste of coconut as well. The research I've done points to coconut possessing more health benefits than previously believed. Coconut oil might be solid at room temperature but it does not contribute to heart disease.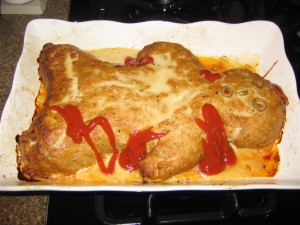 Dead Man's Meatloaf
This next dish is one I make almost every year. I'll let you find your own meatloaf recipe or maybe post one later, but it's more the methodology. I think the picture speaks for itself!
Slightly reminiscent of "Oh No, Mr Bill…." Make sure to squirt the ketchup after it comes out of the oven and allow it to cool slightly so it stays together better.
I hope you have fun with these. Happy Halloween!