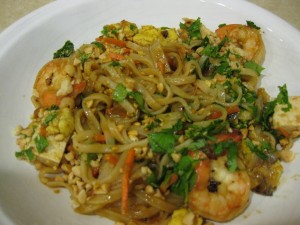 Shrimp and Tofu Pad Thai
Think your family won't eat Thai food? Have you tried Pad Thai? It's basically noodles in a sweet sauce. At some point, we realized our kids liked it when they tried it in a restaurant. They are not crazy about cilantro but they love the rest.
Hmm, sauteed shrimp or chicken with some scrambled egg and tofu and a few veggies? Sounds good to me. Introduce this to them when they can eat noodles. If they aren't as adventurous, try keeping things separate for them; some kids just like it that way. Peanut allergies? Either omit or use cashews if you can.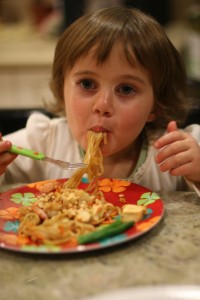 If you can buy the ingredients over the weekend, this dish is really very quick. I use pre-shredded carrots, frozen shrimp which thaw quickly and just chop the cilantro and scallions while everything else is cooking up in the wok. I like my mini processor for the peanuts. I'm working on a pad thai sauce and will post when I've mastered it. For now, Annie Chungs is delicious and one bottle is the perfect amount.
Hope you like it.
Shrimp and Tofu Pad Thai
Serves 3-4
8 oz rice noodles
3 tbsp vegetable oil or canola oil (divided)
2 eggs, lightly beaten
1 small onion, thinly sliced or chopped
8-10, or about 1/2 lb, medium sized shrimp, cleaned and deveined, thawed if frozen (can also add chicken)
2 tsp ginger, minced
1-2 cloves garlic, minced
1 cup fresh bean sprouts (if you don't like them or don't have them, just leave them out)
1 cup shredded carrots
8 oz firm tofu, cubed
1 bottle Pad Thai Sauce (I like Annie Chung's brand)
Garnish
2 tbsp chopped fresh cilantro
3 tbsp chopped roasted peanuts
3 tbsp scallions, thinly sliced
1 lime, cut into wedges
1. Fill a medium pot a little more than half way with water. Bring to a boil. Add rice noodles and turn heat off. Allow to sit for 5 minutes. Strain noodles and rinse with cold water. You can keep these in the colander while you make the stir fry.
2. Heat 1 tbsp oil in wok or pan over high heat. Add eggs and scramble, using a spoon to move around the pan (otherwise it will burn). It should cook very quickly. Once cooked, remove from pan and place in a bowl.
3. Heat remaining oil and add onion and shrimp to pan. Cook until shrimp are opaque. Add ginger and garlic and cook for one minute. Transfer to the bowl with the eggs.
4. Reduce heat to low, add sauce and noodles to pan and mix well. Then, add cooked shrimp, eggs, carrots, tofu and bean sprouts to noodles and toss. Garnish with cilantro, peanuts, scallions, and lime wedges. Serve and enjoy.