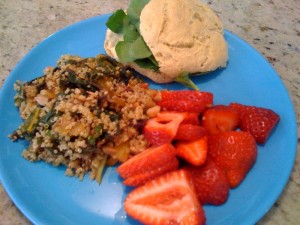 As I was about to eat lunch, I had to stop and take a picture. Although I might still succumb to my processed cheese craving every once in a while, I couldn't believe this is what I was eating; chard and quinoa salad, gluten free bread with white bean dip and arugula, and organic strawberries. This was largely due to the fact that this was what was in the fridge. However, because of my new gluten free (gf) diet, this is what I had in the fridge.
One of the benefits of my gf lifestyle is that I'm eating more healthy. I created this dish as I was rushing to a pot luck. I cooked the quinoa while I prepped the chard. Once that was cooked with the onion, I added the pine nuts, raisins, oil, vinegar, salt and pepper. In about 20 minutes I was out the door with what has now become my favorite salad/side dish/entree. I've added sunflower seeds and now toast both to give them some crunch. Instead of the raisins, you can use cranberries. One time, I even added Indian spices to the onions, like cumin, coriander and cinnamon. That was good, too.
You can make this dish ahead and serve cold or at room temp. So far, everyone has liked it, even those under 4 feet! I hope you'll give it a try, even if you're not eating gluten free. It's going in the cookbook; here's the excerpt:
Using Grains: Chard and Quinoa Salad
Serve this as a salad or side dish. It's always delicious and super easy. My children even eat it!
About 1 cup cooked quinoa (3/4 cup quinoa to 1.5 cup water)
3 Tbl pine nuts or sunflower seeds (or both)
Olive oil
1/2 onion, chopped
Ground pepper
1 head of chard, chopped with stems, placed in a large bowl of water to remove dirt.
1/4 Raisins
1 Tbl good quality olive oil
2 tsp balsamic vinegar
Salt and pepper to taste
Drizzle of agave nectar or honey
1. Prepare quinoa. See tip below.
2. In a non-stick skillet, toast nuts and/or sunflower seeds until golden brown. Remove from pan. If you don't have time, add the pine nuts untoasted.
3. Heat large saute pan to medium. Add olive oil and cook onions with some ground pepper.
4. Remove chard from bowl, putting your hands into the water and scooping out the chard. If you pour the water out, the dirt will remain. Cook chard with onion, uncovered until softened.
5. In a large bowl, mix all ingredients. Taste and adjust seasonings. Serve room temp or cold.
TIP:
How to Cook Quinoa
Rinse quinoa under water (unless it's pre-rinsed; this removes the natural soapy residue it has). Place quinoa in a pot with twice as much water, for example, 1 cup quinoa and 2 cups of water. Add a pinch or two of salt. Bring this up to a boil, cover and lower to a simmer for 12-15 minutes or until all the water is absorbed.
About Quinoa (Keen-wah)
Quinoa has become quite popular in the last few years. Although it's actually a seed (picture a sunflower), it's properties are more like a grain which is why it's referred to as one.
Quinoa comes from South America and has been called a super grain because of the nutritional value it holds. Besides being high in protein, calcium and iron, quinoa also has a good amount of vitamin E and several of the B vitamins. It contains an almost perfect balance of all eight essential amino acids needed for tissue development in humans. Why not give it a try?