While trying to come up with quick and easy meals for one of my customers, I envisioned a casserole similar to a Shepherd's Pie but with Greek flavors. I created a base recipe but needed to test it first. My husband even asked where it came from. Uhm, me…
The night I made it we had just gotten back from a trip. I love creating recipes that can be thrown together in 30 to 45 minutes. Even after flying all day, this recipe was still easy enough to make.
You might know that I eat gluten-free. So, instead of making the traditional white sauce with a flour-based roux, I used a cornstarch slurry. Using whole milk and adding a wee bit of butter at the end gave the milk sauce a creamy texture. I didn't miss the flour for a minute. I'll give you both recipes, though, just in case you like the texture of a sauce made from a roux.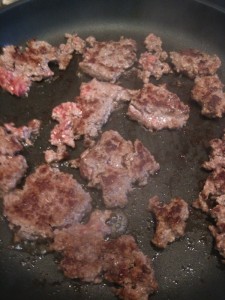 Regardless of the gluten, the one tip that I'll give you now that will make a huge impact on the flavor of your dishes is to step away from the stove when you cook ground meat. Heat the pan first and then drop pieces into the pan. Don't break up the meat and don't crowd the pan. Cook until brown on one side, then turn over. Once cooked for a few minutes, begin to break the meat up with the back of the spoon. A simple trick that will do wonders; I promise.
If you don't eat meat, use sautéed mushrooms instead. I have options for everyone.
Let me know how you like it. After seeing the empty bowls tonight, I know the verdict here.
Greek Casserole
1 lb ground meat (beef, lamb, turkey or chicken) or 1-2 cups sautéed mushrooms
2 tsp olive oil
½ onion, chopped
¼ tsp ground pepper
½ tsp each dried oregano and thyme
¼ tsp nutmeg
½ tsp salt
2 garlic cloves minced
2-3 cups of cooked brown or white rice (Tip: cook rice first, then cook the meat and onion)
1 bag frozen chopped spinach, thawed and squeezed dry
½ c Feta cheese, crumbled
2 c white sauce (see recipes below)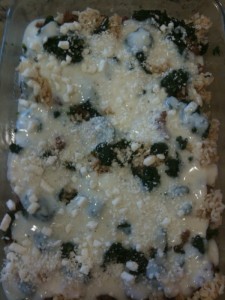 1. Sauté ground meat in a large pan until browned and cooked through. Remove and transfer to a bowl.
2. Heat the same pan over medium heat and add olive oil, then onion and seasonings but not the salt. Without stirring very often, cook until golden brown. Add salt and garlic and cook 1 minute. Add ground meat back to pan and cook together for 2-3 minutes.
3. Place the meat and onion mixture into a 13×9 greased pan.
3. Place rice on top of meat, then spinach. Pour white sauce over this and top with the Feta cheese.
4. Bake in a 375ºF oven for about 25-30 minutes or until brown on top and bubbly. Or, bake 20 minutes and then broil 3-5 minutes or until brown.
Optional additions on top of the spinach: Kalamata olives, chopped sun-dried tomatoes or halved cherry tomatoes
White Sauce (made with a roux)
2 Tbl unsalted butter
3 Tbl flour
2 c whole milk
1/2 tsp salt
Sprinkling of pepper, garlic, nutmeg and oregano
To make the roux, in a medium to small sauce pan, over medium to medium-low heat, melt butter. Add flour and whisk.
While that is cooking, heat milk in a glass measuring cup in the microwave until warm (1 minute works well) or on the stove top in a pot. This helps to reduce lumps since the liquid is closer to the temperature of the roux.
After the roux has cooked for 2-4 minutes, slowly add milk to roux, stirring. Add salt, pepper, garlic, nutmeg and oregano. Continue to cook until slightly thickened. You might need to raise the temperature slightly. Taste and adjust seasoning.
Gluten-Free White Sauce (made with a cornstarch slurry)
2 c whole milk
2 Tbl cornstarch mixed with 2 Tbl cold water
1/2 tsp salt
Sprinkling of pepper, garlic, nutmeg and oregano
1/2 Tbl unsalted butter
Heat milk in a medium sauce pan until just beginning to simmer/scald; look for tiny bubbles on the edges.
Whisk in the cornstarch slurry and seasonings. Cook for about 3 minutes or until thickened. Add butter and stir until melted. Taste and adjust seasoning.