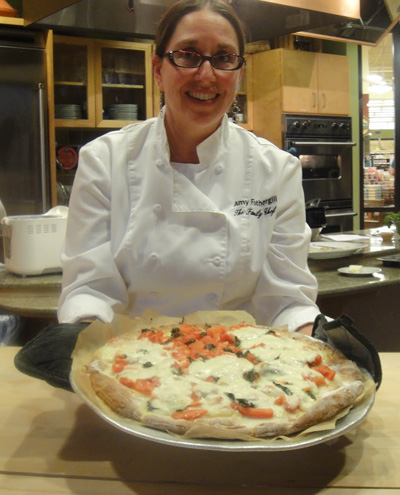 That's me, serving the GF Pizza while everyone waits patiently
Last month, I taught a Gluten-Free Baking class. It always gives me pleasure to see people get excited about good tasting food. I think this is especially the case with gluten-free because there is a lot gluten-free food out there that isn't good.
For this recipe, once you make the dough, the rest is easy. And now that it's summer with so many wonderful tomatoes and fresh basil, you can make this dish any night of the week. There are three things that I do think are important:
Pre-cook the crust for 5 minutes
Use tomato slices that aren't too juicy
Remove some of the moisture from the fresh mozzarella slices
Since the recipe is straight forward, let's get right to it. I have to say, it was one of my best creations. I hope you'll try it.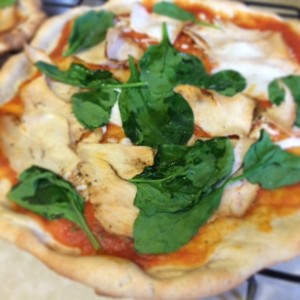 Gluten-Free Margherita Pizza
1 gluten-free pizza crust (recipe here)
2-3 fresh tomatoes, sliced (cut in half first, squeeze a little to remove some juice, then slice)
1 lb fresh mozzarella, cut into slices and placed on a plate with either a paper towel or kitchen towel to absorb moisture
2-3 tsp olive oil
1/2 tsp sea salt
Handful of fresh basil
1. Prepare crust. If you don't have a pizza stone, use a round baking sheet. Make sure to use the parchment paper and the cornmeal. Also, if you prefer a thinner crust, divide the dough between two sheets.
2. After the dough has pre-cooked for 5 minutes, remove from the oven. First, layer the tomatoes on the dough, leaving space for the crust. Top with cheese and then drizzle olive oil all over. Sprinkle salt and then place basil leaves on top.
3. Bake another 7-10 minutes or until crust is brown and cheese is melted. For a crispier crust, slide dough directly onto oven rack for the last 3 minutes (place a baking sheet under to "catch" the cornmeal).
4. Cool about 3 minutes and then enjoy. You are welcome.