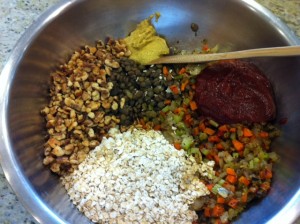 Often I get an email from my cousin that reads "Do you have a recipe for …". A few years ago, he was looking for a lentil loaf recipe. I didn't have one but looked at 2-3 different recipes to get some ideas and created this one, adding the rice and using oats instead of breadcrumbs.
That recipe, before I was eating a gluten-free diet, was posted on my blog in 2009. I realized I should create a gluten-free version.
I am not a vegetarian but do enjoy some dishes, like this one, especially with a mushroom Marsala sauce and (of course) mashed potatoes. There's not much more to say than that!
Ok…one more thing; I think this would also work with quinoa or millet to replace some of the rice. Millet is dry so you might have to add more milk but the quinoa should work.
As always, let me know how you like it.
Gluten-Free Lentil Loaf
1 c short grain brown rice (or use about 2 c cooked)
1 c brown lentils (or use 3 c cooked)
Salt
2 tsp olive oil
1 medium onion, chopped
2 carrots, chopped
1-2 stalks celery, chopped
1 tsp Herbs de Provence or a combination of thyme, oregano, rosemary and sage
1/2 tsp ground pepper
1/2 tsp sea salt
1 Tbl tomato paste
1/2 c walnuts, toasted
1 c gluten-free instant oats
1/2 c gluten-free ketchup
2 Tbl brown mustard
1 Tbl gluten-free soy sauce
1/4 c Milk or water
1-2 eggs, beaten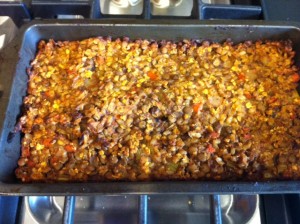 Note: Steps 1-3 can be done at the same time.
1. Cook rice: bring 2 1/2 cups water to a boil. Add rice and a pinch of salt. Cover and bring back to a boil and then simmer for about 30-35 minutes.
2. Cook lentils: add 1 cup of rinsed lentils to 3 cups of water with a pinch of salt. Bring to a boil and then lower to a simmer. Cook about 30 minutes or until water is absorbed and lentils are soft.
3. Cook veggies: Heat oil in pan. Add carrots, onions and then celery with seasonings and salt until golden brown. Add 1/2-1 cup water and cook until evaporated. This will help soften the veggies and get the flavor from the pan. Remove from pan and add tomato paste.
5. Pre-heat oven to 350 degrees F. Spray a loaf pan with non-stick spray or coat with oil.
6. Once lentils, rice, and veggies have cooled, mix in a large bowl. Add the remaining ingredients EXCEPT egg. Taste the mixture and season with salt and pepper if necessary. Once the flavor is right, add the egg and mix well. Make sure the mixture is somewhat "wet" or else it will be crumbly instead of moist. You can add more milk or water if necessary.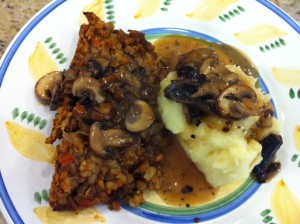 7. Place in loaf pan and press down. Bake for 45 minutes or until the internal temperature reaches at least 160 degrees F and the top is browned.
8. Allow to rest for 5 minutes and then cut. Serve with gluten-free mushroom marsala sauce.