Sometimes I can be intimidated to cook certain foods, especially new gluten-free dishes. For some reason, I had thought crepes would be similar to going into the chem lab. I'm happy to report it can be made just as easily as regular ones! But, my theory behind knowing how to cook, regardless of whether it's gluten-free or not, holds true. Technique is very important.
It's hard as a parent to deny your children something as simple as a crepe. If you have had to stop making crepes in the past, look no further! Enjoy.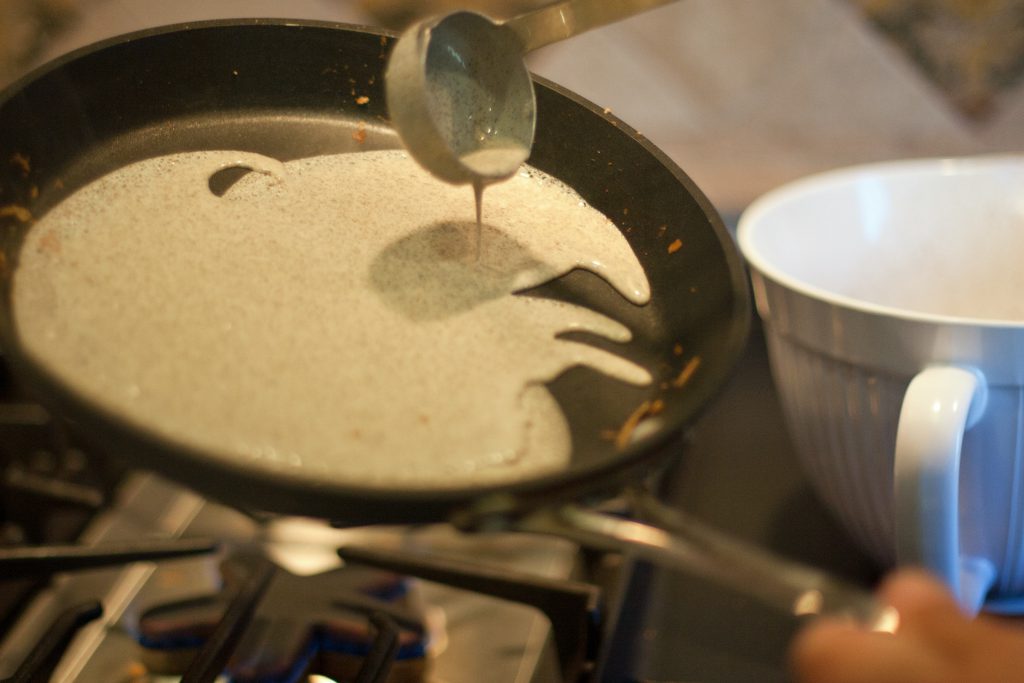 Gluten-Free "Very Easy" Crepes
Makes 6 crepes in a 10″ crepe pan (I would suggest doubling this recipe so you can make more at once)
2/3 cup milk or milk substitute
1/3 cup (or 50g) cornstarch* or arrowroot flour
1 large egg
2 teaspoons olive oil or melted butter
pinch of salt
* to make a buckwheat style crepe, I use 1/2 cornstarch and 1/2 buckwheat flour
Optional: for sweet crepes, add 1 tablespoon powdered sugar
Directions:
Place all ingredients in a blender and mix until combined.
Add a drizzle of oil to the pan. Heat crepe pan to just over medium heat. This is a little tricky so don't be surprised if the first crepe isn't perfect.
Lift the pan off of the heat and pour 2 tablespoons of batter into the pan while swirling the pan. I used a special crepe ladle which worked well. Swirl the pan off of the heat until the batter begins is covering the bottom.
Cook for 20-40 seconds or until the edges are browned and start to pull away from the side. If the crepe is not brown, you may need to raise the heat. A gas stove works very well for this.
Using a spatula, lift one edge of the crepe and then flip it over with your fingers or tongs. Cook an additional 15-20 seconds.
Repeat with remaining batter.
Enjoy as a breakfast dish with eggs, savory dish with salad or snack/dessert with nutella, fruit or chocolate.