On nights when I know there won't be a lot of time to cook, I use this recipe/technique. It's one of my favorite recipes from my book, The Warm Kitchen.
What I love about it is that I can change the flavor profile of the chicken based on what herbs and spices I use. If I'm in the mood for a particular flavor or just want to use up something else, the dish can easily be transformed. I used to just call this sauteed chicken then realized one of its benefits is how quick it comes together. Yes, I timed it…7 minutes!
The chicken has to be either flattened or cut in half in order for it to  cook properly in 7 minutes; otherwise, it might take about 12-15 minutes total. Adding some liquid like lemon juice or broth at the end helps to finish the cooking as well.
This recipe is naturally gluten-free. If you use a butter substitute or coconut oil instead of butter, it is dairy-free as well.
Incase you haven't seen it yet, I have been featured in the Spring issue of Cafe' Tecumseh! (see below). In the interview portion, this recipe is mentioned. You can get my recipe for Chicken Tenders with Orange Mustard sauce which is in the magazine here. To view the full digital copy, click here.
I encourage you to try this recipe for your family. It's easy and tasty!
This recipe was featured on pg 25 in this magazine!
7 Minute Chicken
Serves 3-4 
1 pound boneless skinless chicken breast, trimmed of fat and/or connective tissue, flattened with a meat mallet or made into cutlets but cutting across the middle
1-2 teaspoons herbs and spices (see below)
2 teaspoons olive oil
Juice of ½ lemon or ¼ cup chicken broth
1 tablespoon unsalted butter, butter substitute or non-virgin coconut oil, i.e. plain, without a coconut smell
Optional: 1 cup chicken broth
1 tablespoon of cornstarch mixed with 1 tablespoon water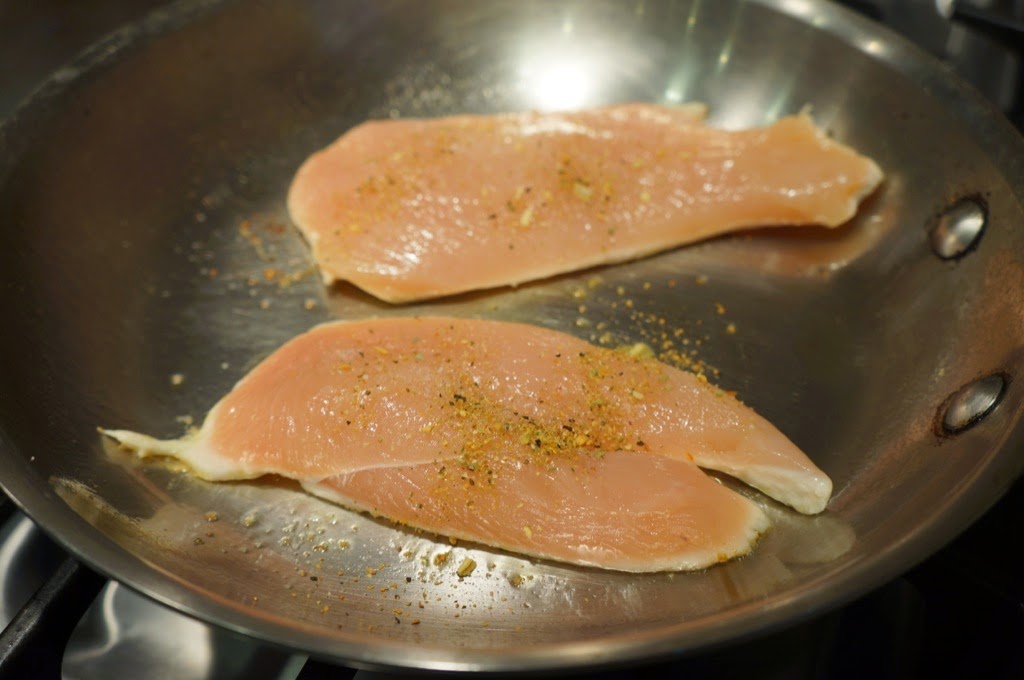 FLAVOR PROFILE BLENDS
Italian blend: Mix ½ teaspoon each oregano, thyme, ground black pepper, garlic powder and salt or about 2 teaspoons of an Italian seasoning blend
Mexican blend: Mix ½ teaspoon each cumin, coriander, oregano, garlic, salt, and pepper
Indian blend: Mix ½ teaspoon each cumin, salt, and pepper and ¼ teaspoon each coriander, curry powder or turmeric, and ground ginger.
1. Mix herbs and spices in a small bowl. Sprinkle half over chicken. You can save any extra seasoning as long as it has not touched the raw chicken.
2. Heat medium sauté pan to medium or medium high. Once the pan is hot, add the oil and quickly place the chicken in the pan, seasoning side down, being careful not to crowd the pan.
Cook in batches if necessary. If using a non-stick pan, add oil and then heat pan. As soon as oil is hot, add chicken.
3. Do not move chicken in the pan. Sprinkle remaining seasoning on other side of chicken. Adjust heat if necessary so that you can hear the chicken cooking but so that it's not burning.
4. Once chicken is fragrant and beginning to turn white on the edges, turn over and cook the other side. The cooked side should be brown. Again, do not move around in the pan and try not to overcook.
5. Cooked chicken will be firm when you press it. If it's not done, it will feel soft. Try to resist the temptation to cut into it; you'll lose a lot of the natural juices.
6. Once the chicken is cooked, you can deglaze the pan by adding fresh lemon juice or ¼ cup chicken broth. Let that cook for 1 minute, remove from heat, then add 1-2 tablespoons unsalted butter. It should only take 7 minutes from the start of the cooking process to this step.
7. Optionally, to make more sauce and/or to help finish cooking the chicken, place the pan back on the burner over medium heat. Add 1 cup of chicken broth to the pan and bring to a simmer, lowering the heat if necessary. When the broth comes to a simmer, stir the cornstarch and water mixture and add it to the pan. Stir the sauce in the pan until combined. Cook 2-3 minutes or until the sauce is thick and the chicken is fully cooked. Taste sauce and adjust seasonings. If the sauce is gritty, continue simmering another 1-2 minutes.