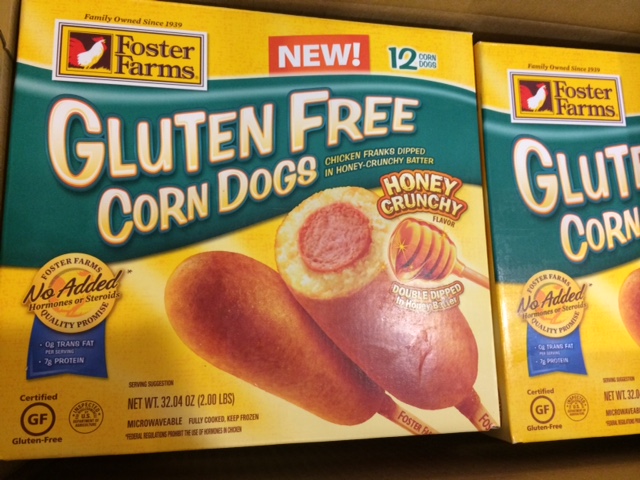 It's always heartening to see another mainstream company embrace the gluten-free label. And while Foster Farms isn't my first choice for frozen chicken products, the company is definitely helping those of us on a gluten-free diet feel that much more normal! The company started shipping their three gluten-free products over the summer and grocery stores are starting to feature them in their freezer sections. Not only are these new products gluten-free but they're certified by the Gluten Intolerance Group, which adheres to strict guidelines required by the GIG certification team.
Foster Farms provided free product for this review. Opinions are my own.
Actually, Foster Farms provided a generous amount of product for my review. So much that I got to share it with my friends and collect even more feedback. The results were surprisingly consistent among the impromptu taste testers at my kids' school.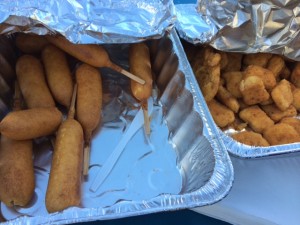 Everyone who had one of the chicken frank based corn dogs said they liked them and most people couldn't tell that they were gluten-free. However, this is where my family drifted from the consensus a bit. We're not really not that big on the corn bread/hot dog combo. For me, it does bring back some pleasant memories of going to a fair and, while I liked the breading I wasn't crazy about the dog itself. In fact, my daughter (who is not a vegetarian) simply picked off the cornbread and left the meat. My husband and son ate the whole thing but weren't particularly thrilled by the experience. My son declined to have one placed in his lunch box the next day. My kids are just not corn dog kids; not sure how that happened.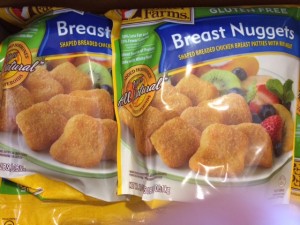 The nuggets were the least liked by my group of reviewers as the texture and taste weren't great. Still most everyone in the group agreed that the would do "in a pinch" and I feel the same. They were OK.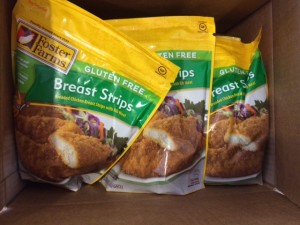 The real winner for both taste and texture where the "Breast Strips." Everyone seemed to enjoy them. My only complaint was that the actual product was dwarfed by an extra large bag–making it seem like there should be so much more chicken in there then there actually was. Still, it is a solid product. I packed some in my childrens' lunch boxes just the other day and it was a huge hit.
As I said earlier, Foster Farms is not my first choice when it comes to poultry. When I asked the Foster Farms PR representative about the handling of the chicken, the reply I received was "Foster Farms is committed to the health and welfare of its flocks, because healthy chickens ensure safe, high quality poultry products." The rep emphasized that antibiotics were used judiciously to protect the health of the chickens and humans (not for growth promotion) and that the company only uses those antibiotics approved by the FDA for disease treatment and prevention, while steering clear of those considered "critical to human medicine."  I was also informed that Foster Farms is the only major poultry producer to be certified by the American Humane Association, a national third party audit program that ensures those certified follow a set of criteria involving animal living conditions, diet, and natural behaviors.
So if you were already a fan of Foster Farms products before switching to a gluten-free diet, I'd say it's definitely worth your while to try out their new products. Feel free to leave comments here about your own experiences and, to learn more about Foster Farms Gluten-Free Products, click here.