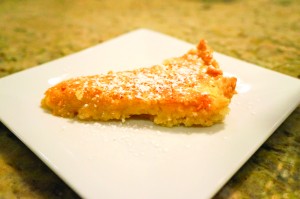 This gluten-free lemon tart recipe is a favorite from the "Fancy Pants" section of my cookbook, The Warm Kitchen. If you like lemons, you are pretty much guaranteed to love this light and tangy dessert. If you prefer your tart a little more tart, reduce the sugar in the filling to 3/4 of a cup. If you're feeling experimental, substitute limes for lemons as one of my recipe testers suggested. Most importantly, have fun and enjoy!
Gluten-Free Lemon Tart Recipe
Makes one 9″ tart
Ingredients
Crust
1/2 cup cold unsalted butter, butter substitute, or vegetable shortening, cut into chunks
1 cup Amy's Gluten-Free Flour Blend
1/2 cup cornstarch or tapioca starch/flour
1/4 cup confectioner's sugar
1 teaspoon xanthan gum
Pinch of salt
1 large egg, beaten
Filling
1 cup white sugar
3 large eggs, lightly beaten
2 tablespoons cornstarch
1/2 teaspoon baking powder
Grated zest of 1 lemon
Juice of  1 lemon (about 2 1/2 -3 tablespoons)
Confectioner's sugar for decoration
Instructions
1. Preheat oven to 350 degrees Fahrenheit. Place a piece of foil around a 9″ tart pan with a removable bottom on top. This helps prevent the butter from leaking into the oven in case it comes out of the pan. Have a baking sheet handy to place the tart on top of it before it goes into the oven. You can also make this in an 8″ x 8″ square pan.
2. Place flour, cornstarch, xanthan gum, sugar, and salt in a food processor bowl and process until combined. Add the cold butter or shortening and process until it resembles grated cheese or coarse meal. If you don't have a food processor, mix the dry ingredients in a bowl and then cut in the butter with two knives or a pastry cutter.
3. Transfer the flour mixture from the processor to a medium bowl. Add the beaten egg and mix with a spatula. The dough will be crumbly and not in one piece.
4. Gently press the dough into the bottom and up the side of the pan. Place the tart pan on a baking sheet.
5. Bake crust 16-18 minutes or until just becoming brown. Cool 10 minutes.
6. Do not blend the filling ingredients until the tart shell is cooled; the ingredients can be prepped. When the crust is slightly cooled, mix the filling ingredients with a whisk in a medium bowl and pour mixture into the partially baked tart shell. Bake the tart at 350 degrees Fahrenheit for 20-25 minutes or until the crust is golden and the top is light brown.
7. Cool completely and remove sides of tart pan. If the crust is sticking, use a knife to gently loosen the tart from the sides.
8. The tart is better chilled but can be served at room temperature. Sprinkle confectioner's sugar on top before serving.