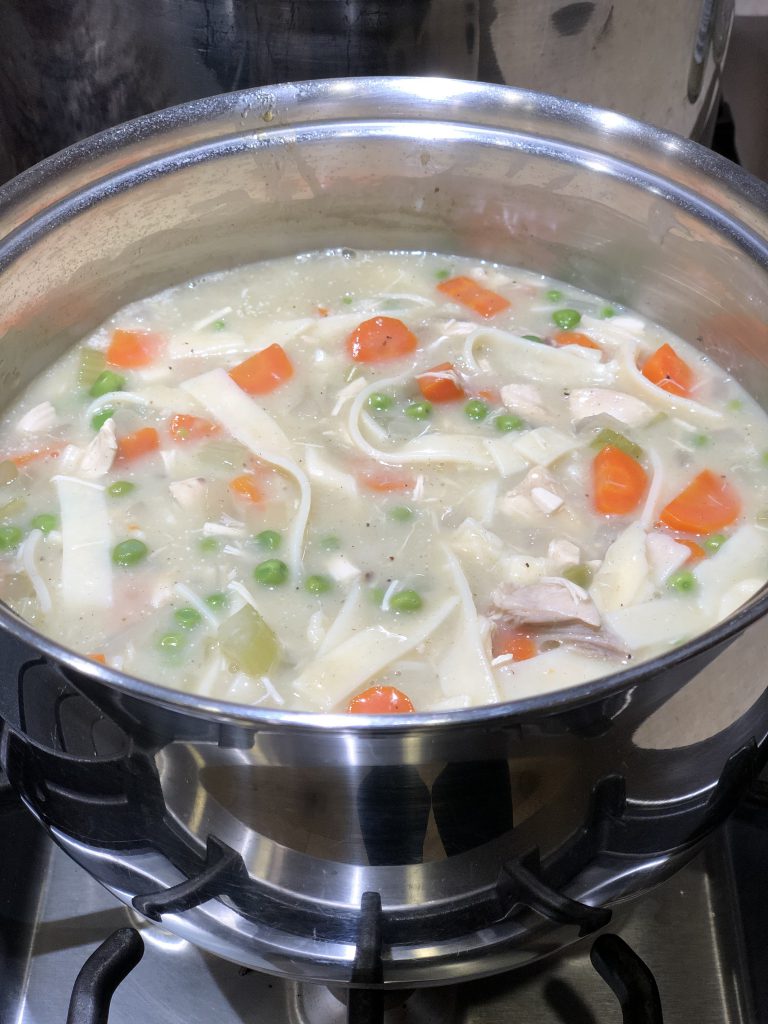 Some times when I cook, I look in the fridge for inspiration. On this particular day, I found rotisserie chicken, gluten-free egg noodles, and the ingredients for any soup: carrots, celery, and onion. Hmm, I thought, I wonder if I cooked the fresh noodles in chicken soup, maybe it would be similar to chicken and dumplings? I'm not an expert on the subject but I did think it would taste good. My instincts were correct! This gluten free creamy chicken noodle soup was delicious for dinner and leftovers. My kids have already asked me when I'm making it again. The best part is that once the veggies are cut, it comes together very quickly. Let's break down your prep list:
Cut the veggies
Shred or cut the chicken
Cut the noodles
Make a slurry (starch + cold water)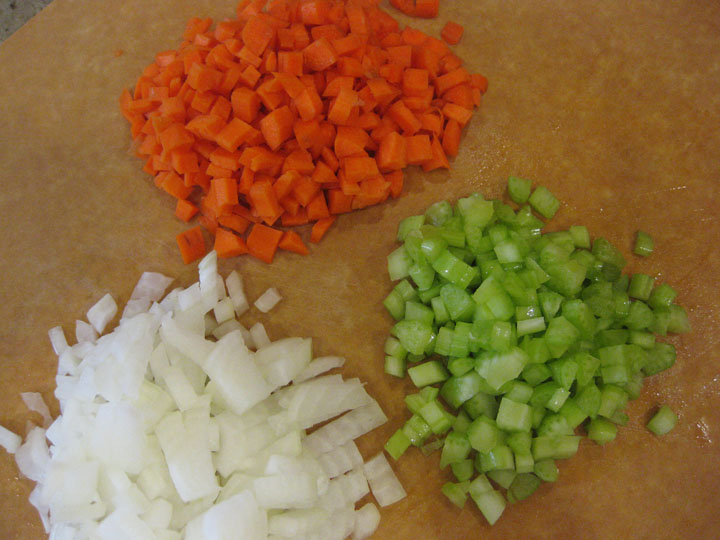 I based this recipe off of my hearty chicken soup recipe from The Warm Kitchen; I use it to make gluten-free chicken pot pie (yum). The difference is with this recipe the noodles are cooked in the broth. This makes the broth thick as the starch cooks out of the noodles. Just make sure to do this toward the end; fresh noodles only take a few minutes to cook. And it's easy to make it dairy-free. I usually use an unflavored almond milk. You could use any dairy substitute; some are more thin than others and may require more thickening.
For paleo, skip the peas, use arrowroot instead of cornstarch to thicken, and substitute the rice-based noodle with either a cassava flour or zucchini noodle.
So let's get to this gluten-free creamy chicken noodle soup recipe! If you make it, let me know whether or not you think it reminds you of chicken and dumplings (says the girl who never lived in the south). I won't be offended if your answer is no. It's more important that you love it!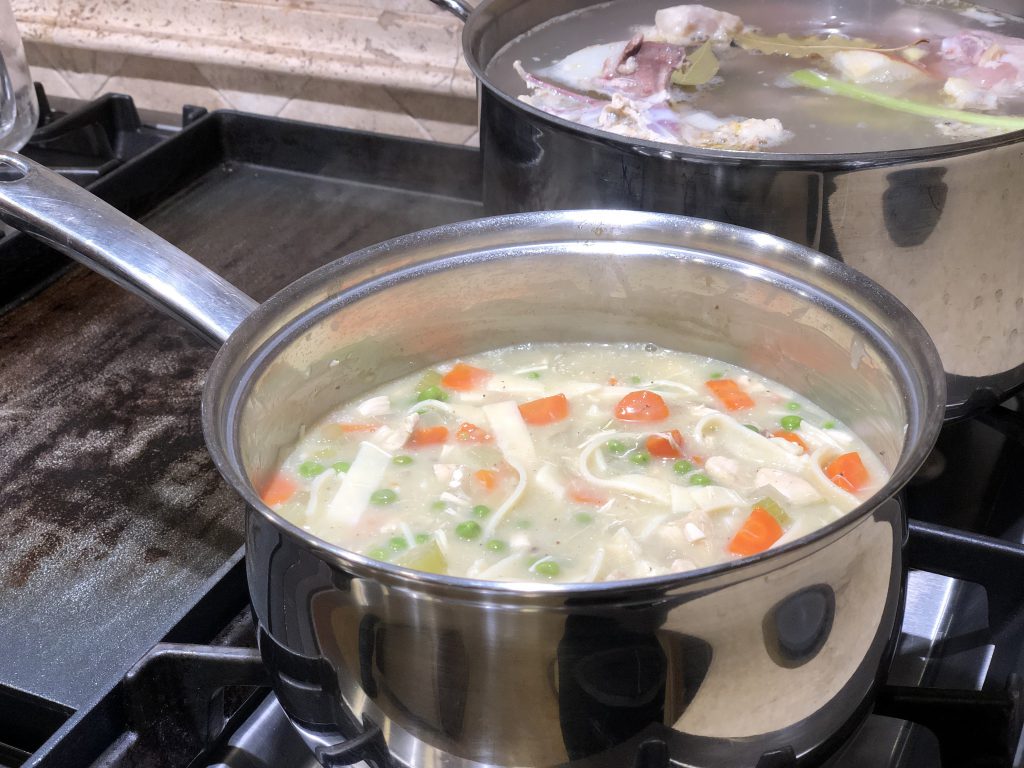 Gluten-Free Creamy Chicken Noodle Soup
Ingredients:
2 teaspoons olive oil
1/2 onion, diced
2-3 carrots, diced
1-2 celery ribs, diced
1/2-1 teaspoon dried sage or poultry seasoning
1 teaspoon salt
1/2 teaspoon black pepper
2 cups cooked chicken
3 cups gluten-free chicken broth
1 cup fresh or frozen peas (slightly thawed if using frozen)
1 9 ounce package fresh gluten-free fettuccine noodles, cut into 1″ strips
1 cup milk or milk substitute (unsweetened and plain)
Slurry: 2 tablespoons cornstarch + 2 tablespoons cold water mixed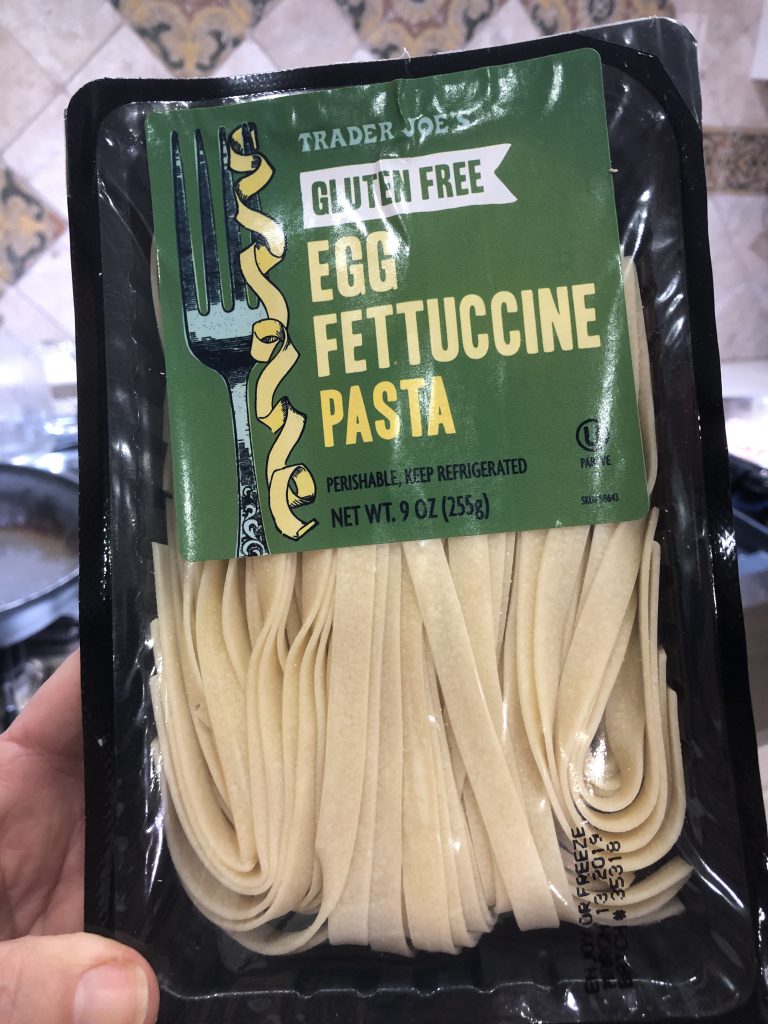 Directions:
Heat oil in a large soup pot. Add onions, carrots, celery, sage or poultry seasoning, salt, and pepper. Without stirring too often, allow to cook until the onion is soft and lightly browned.
Add chicken broth and chicken and stir. Bring to a simmer in the pot. Cook until vegetables are soft. Add peas and cook until heated through.
Add 1 cup of water and bring soup back to a simmer. Add noodles, bring back to a simmer and cook until soft, about 3 minutes, stirring occasionally. Add milk and stir, continuing to cook but not stirring too often.
Make the slurry by mixing water and cornstarch in a small bowl or cup. Slowly add half of this to the pot, stirring. Simmer and continue cooking. If stew is not thick enough, slowly add more slurry. Make more slurry if necessary. If the stew is too thick, add more milk or broth. Make sure to stir the bottom and sides of the pot.
Taste and season with additional salt, pepper, and sage. Enjoy!
Equipment List
Good kitchen equipment is very important to making cooking easier. Here is a list of some things that might help you in the kitchen with this dish. These are amazon affiliate links so it means it costs you nothing more but I will get a small, small percentage from amazon for making these suggestions. It helps to fund the costs of running a blog. Thank you in advance.