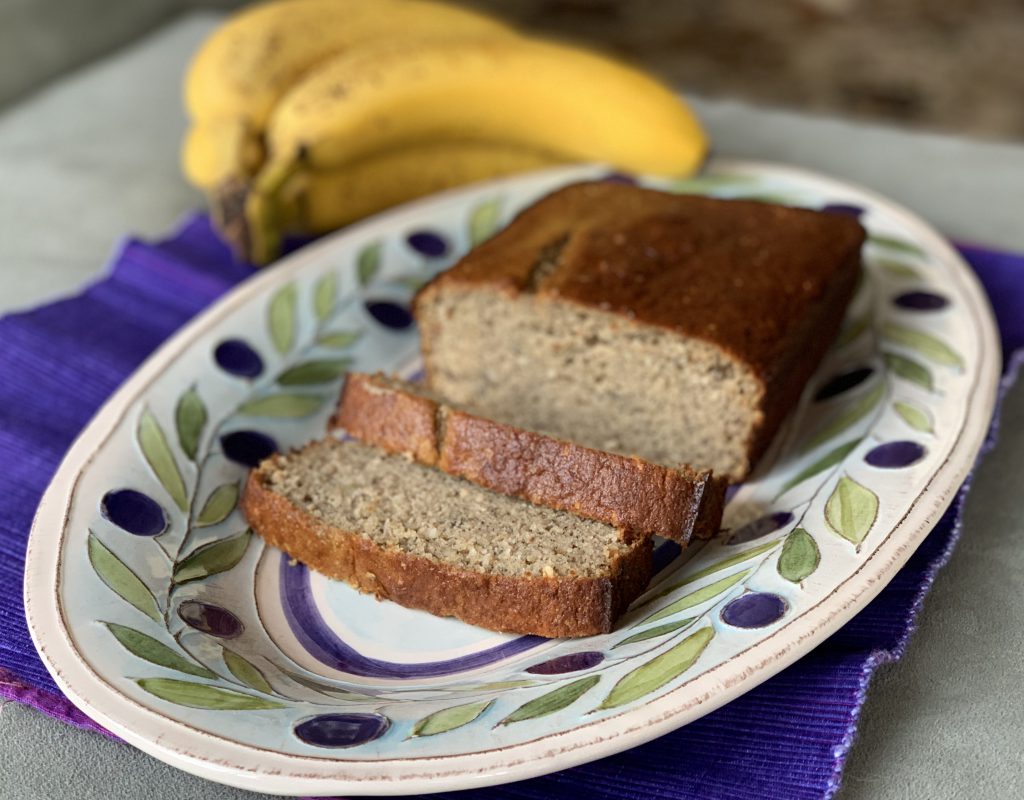 Banana bread and I go way back. When I first started my blog, I mastered a regular version. Then, after my daughter was diagnosed with a gluten intolerance, I created a gluten-free and dairy-free version. In the last few years, I've been eating less grains and refined sugar. Which lead me to create a really good paleo version but I wanted something less dry. This easy paleo banana bread does just that. Let me know if you try it and what you think!
Easy Paleo Banana Bread Recipe
Makes 1 loaf or about 12 servings
___________________________________
Ingredients:
1 cup almond flour
¼ cup coconut flour
¼ cup unsweetened coconut flakes
¼ cup arrowroot flour
1 ½ teaspoons baking powder
½ teaspoon baking soda
½ teaspoon kosher salt
1 teaspoon cinnamon
1/8 teaspoon ginger
___________________________________
4 large eggs
3 ripe medium bananas, mashed
¼ cup melted coconut oil
1/4 cup honey or maple syrup
1 teaspoon pure vanilla extract
Optional: ½ cup chopped walnuts, chocolate chips
Directions:
Preheat oven to 350F (preheat to 325F if using a dark metal pan) and prepare a loaf pan by greasing it with melted coconut oil.
In a medium bowl, mix dry ingredients well until most of the almond flour is broken up.
In a large bowl, mix the eggs, and banana.
Add the coconut oil, honey, vanilla, and walnuts (if using) to the other wet ingredients and mix. 
Add the dry ingredients to the wet and stir to combine. Do not overmix.
Place in loaf pan, smooth out the top with a spatula, and then place in the oven.
Bake for about 35-40 minutes. If the bread is getting too dark (this can be caused by the color of the pan), lower the heat 25F. Cook until sides are pulling away from the pan or when it feels firm. This bread does not rise very much but is absolutely delicious!