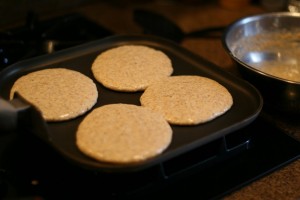 Yum…who doesn't love pancakes with syrup? Many of us do. When I found out my daughter had food sensitivities, gluten was one of those no-no foods. I had spent the last year, making delicious, healthy pancakes at least once a week for my family. Now, I felt like I had to start over.
Some times changes is good for all of us. I didn't think I needed any challenges in the kitchen, but apparently I did! Cooking and baking gluten-free has opened my eyes to the day-to-day challenges of many. And if anything, it's forced me to look at how I cook for my family. Now I try to use healthier substitutions.
On this particular morning, I wanted pancakes. I really don't like to make two different meals so instead, I make something we all can have. Recently, I discovered ground flaxseed meal which I found in Trader Joe's. We've been hearing about the benefits more and more of flaxseed. One of the features is that it's "an excellent source of protein, fiber, and minerals such as magnesium and copper", according to the package. The bottom line is that I decided to bring these two things together (pancakes and flaxseed).
I have to say the result was quite delicious. It tasted more like a whole grain pancake. I hope you'll give it a try!
1 1/2 cups Gluten Free Flour mix (you can buy this or make your own)
1/2 c ground flaxseed meal
1 Tbl baking powder
1 tsp salt
1/2 tsp cinnamon
1 egg
3/4 cup soy milk (you can also use water or a combination; as long as it equals 3/4 cup)
1 tsp vanilla
1 Tbl oil
1 Tbl agave nectar
Mix all ingredients. Place a non-stick, square griddle on the stove top and heat to medium. Pour batter onto griddle to make 4 pancakes (about 1/2 cup of batter per pancake). Cook until you see bubbles on top. Flip over and cook a minute or so. Serve with organic maple syrup and/or agave nectar. You can also add fruit like sliced bananas, blueberries, raspberries or thinly sliced apple. Enjoy!
And of course, I had to get the kids involved. I think they liked them as well…