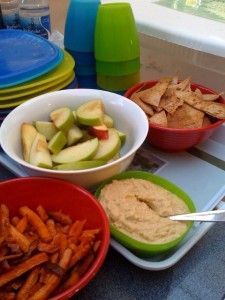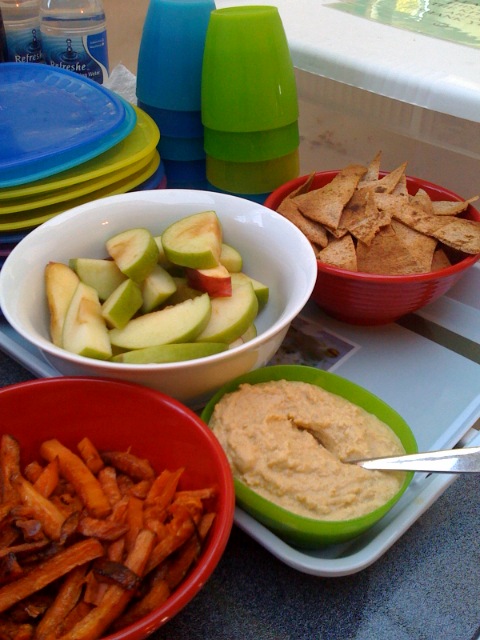 This past year, I have been helping my son's pre-school with their snack program. They went from goldfish and graham crackers to organic produce, yogurt fruit shakes and whole grain, high fiber crackers. The children are very happy and the parents are even happier.
I have a philosophy about kids and eating. Don't make assumptions. It really is true.
I had gotten some feedback from the teachers that the children did not like the hummus. I was confused because most children I know like it. Then I tasted the brand we were using and did find it to be garlicky.
So, today I tried making it with them as part of the "Cooking with Amy" program we've started. I go there about every other week and cook something with them.
Today, almost half of them helped and most of them tried it. Then, when we served it, there were many more that liked it. It was served with toasted whole wheat flour tortillas, sweet potato fries and apples on the side; very healthy!
Special thanks goes to the teacher who just plopped some on their plate and encouraged them to taste it. Oh, and we called it "dip" since we thought some might not like or know the term "hummus". These children really made me proud. It is so important to expose them to the different flavors and textures of food.
And who would have thought 3, 4 and 5 year olds would eat this? Remember, never make assumptions. I hope you will give it a try.
INGREDIENTS:
1 16 oz can of chickpeas or garbanzo beans
1/4 cup liquid from can of chickpeas
Juice of 1/2 of a lemon
1 1/2 tablespoons fresh tahini
1/2 teaspoon salt
2-3 tablespoons olive oil
PREPARATION:
Drain chickpeas and set aside liquid from can. Rinse chickpeas with water. Combine remaining ingredients in blender or food processor. Add 1/4 cup of liquid from chickpeas. Blend for 3-5 minutes on low until thoroughly mixed and smooth.
Note: I removed the garlic for this recipe since it seemed to be too strong for these little taste buds. However, you can add 1-2 cloves depending upon your taste.