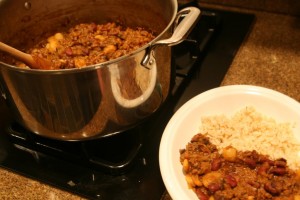 Are you looking for something to bring to a potluck, bbq or party that is tasty and full of protein and fiber? I used to make this dish when I lived in Boston and then sort of forgot about it. This is surprising because it's easy and delicious.
I was getting ready for a bbq one day and remembered the recipe so that was the dish I brought along with me. Moms, dads and kids alike all enjoyed it. I've made it a few times after that and I always get the same results. Oh, and of course, everyone wants the recipe! So here it is along with some tips at the end for variations.

Western Chili
1 lb natural, grass fed ground beef
1 diced onion
1 lb natural, uncured bacon, diced
1 can baked beans with juice
1 reg can kidney beans, drained and rinsed
1 reg can butter beans, drained and rinsed
1/4 c molasses
1/4 c brown sugar
1/2 c ketchup
1 Tbl yellow mustard
1. In a large pot, over medium to medium high heat, cook beef, only stirring occasionally so as to get good browning and carmelization. When the meat is about half way cooked, add the onion. Cook this until there is no more pink in the meat and the onion is translucent. Drain any extra fat.
2. Fry bacon until crisp. Drain and pat dry. Wipe out pot.
3. Add all ingredients back to pot and simmer 20-30 mins, checking for seasoning.
4. Serve by itself or over brown rice.
Variations:
*Use ground pork, turkey or veggie ground round to substitute the beef
*Try buying the bacon from your butcher so you can get the exact weight that you want. Also, the quality is usually better.
*If you don't have bacon, use ham.
*Instead of brown sugar, use half the amount of agave nectar or equal parts of sucanat.
*Butter beans are really lima beans. If you can't find them, try white kidney beans.