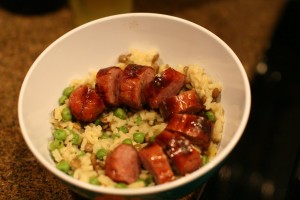 Yes, that is what my 4 year old said tonight of dinner. And what was it? An easy, tasty dish that was ready in less than 31 minutes (just in case Rachel has that 30 minute thing copyrighted!):
Grilled Italian Sausages served on top of Lentil-Rice Pilaf with Peas.
My family really likes sausages (remember, I am Italian and my husband is English). But today, some sausages are, well, made of undesirable ingredients. So, I stick to home-made (i.e. made by the butcher) and brands like Niman Ranch. I tend to select sausages which have less fat like turkey or chicken. I love to pan fry them or cook them on the grill. If you are cooking them on the stove top, don't stir them too much; make sure you get good browning.
The pilaf I sort of made up. I wanted something that would go nicely with the sausage so rice and lentils came to mind. Those are two great ingredients to keep in the pantry. I wanted some veggies in the dish and felt the peas would be a nice addition. I could have used broccoli or zucchini as well. It all sort of came together.
What I liked is that I started cooking at 5:20 and we were eating at 6:00, once the food cooled a bit. I also liked the fact that this one dish had carbs, protein and a vegetable. When I meal plan, that's usually my goal. And, of course, the fact that it's gluten-free just makes it that much better (my daughter has a sensitivity to gluten).
Here's the recipe for the pilaf. I hope you will try it.
Lentil-Rice Pilaf with Peas
Serves 4
3 cups of chicken or veggie broth
1/3 cup brown lentils, rinsed
2/3 cup white rice
Few strands of saffron
1/2 cup frozen peas
1 Tbl butter
Heat broth to boiling in a medium size pot. Add lentils, rice and saffron. Stir, cover and bring back to a boil. Lower to a simmer and cook 15-18 minutes. Remove cover and stir, making sure there is plenty of liquid. If there is not, add 1/4 cup more. Add frozen peas and stir. Place cover back on and raise heat to bring back to a simmer. Continue to cook until liquid is absorbed and lentils are cooked. At the very end, add the butter and stir. You can also use a good quality olive oil.
This can be served as a main course (for two people) or as a side dish with grilled sausage or chicken.