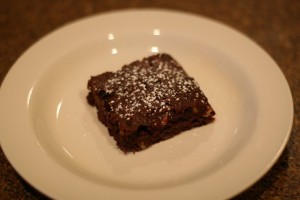 Do you remember some of the products like "I can't believe it's not butter!" or "I can't believe it's frozen yogurt!"? Well, get ready for "I can't believe these brownies are gluten-free!".
I have been cooking and baking gluten-free since July 2007 when a doctor told me that one of the reason's for my daughter's eczema was due to her diet. Some of you know this whole story already. Well, in a quest to keep things simple, I've been experimenting with many different recipes of all types: pancakes, muffins, cakes, pasta dishes and brownies. I have even found a few boxed products that I feel work well. But, as always, when compared to homemade, well, there is no comparison.
I thought I had found a good one with the Whole Foods Gluten-Free Brownie Mix. But when I looked at the ingredients, I noticed there was a lot of sugar. Hmm, I want something easy but I still want control of what my family is eating. So, I played around with a bunch of different recipes until I came up with this. Even if you're not gluten-free, I promise you'll like them. Enjoy!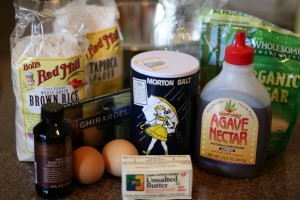 Gluten-Free Brownies
4 tablespoons unsalted butter
4 ounces bittersweet chocolate
1/4 cup canola oil
1/4 cup agave nectar
1/2 cup sugar
2 eggs
1 teaspoon vanilla extract
1/4 teaspoon salt
1/4 cup brown rice flour
1/4 cup tapioca flour
Optional: 1/2 cup chopped nuts like pecans or walnuts
1/2 cup semi-sweet chocolate chips like Guittard
Preheat the oven to 325 degrees F. Grease an 8-inch square baking pan. Place the chocolate and the butter in a glass measuring cup and cook in the microwave for 30 seconds at a time until melted. Allow to cool slightly. Add the canola oil.
In a medium-sized bowl, combine the flours, sugar, agave nectar, eggs, salt and vanilla, whisking until they are mixed together. Finally, pour in the melted chocolate-butter-oil mixture and stir, carefully, with a rubber spatula, until the mixture has become smooth.
Pour the mixture into the prepared baking pan. Bake for 30-32 minutes or until toothpick comes out slightly wet. If it's dry, the brownie will be dry. Next time, cook for less time. If it's too wet, it will be too gooey. It might take you a few times making this to get it right but once you do, you'll be happy with the results.