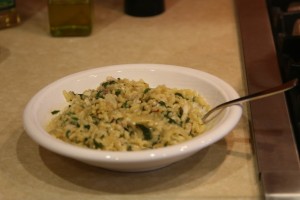 On August 8, at 4:30 pm, I was a happy girl. The gas stove and dishwasher were both installed that day and the kitchen was ready to move back into. I didn't know what to do first. Pasta? Some type of saute? My husband may beg to differ, but I really have a frugal side. I had baked some fish the other night and wanted to use that up so…why not my favorite dish of saffron risotto topped with cod?
For his birthday, a friend gave Santo a little Remy doll (the very talented rat chef in "Ratatouille"). For the last few months, I've been hearing it say "I'm going to make something special…something with saffron!" Are you laughing that this is what inspired me? So, that's how the first real meal in the kitchen was born. I sauteed the onions with care, added saffron and black pepper, a little wine and then the chicken broth. Yum, yum, yum.
The smells coming from the stove were heavenly. How I missed that! I thought back to what has been hardest during the remodel. Beyond a shadow of a doubt; a sink. And next would be a stove. I've been able to get by with a microwave, toaster oven and outdoor grill but I missed "cooking".
I'm almost completely moved in. There are a few more boxes in the garage. With the exception of the dishwasher not working correctly (arghh), it's been an easy transition back to normal. I've made lots of pancakes, waffles, pasta, scrambled eggs and pizza. Today I made a vegetable soup, whole wheat bread and gluten-free bagels. I guess the term "back in business" would be appropriate!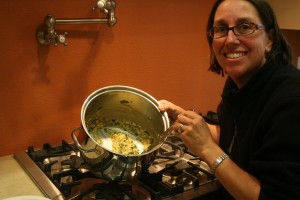 I should have less of an excuse for not being able to blog. I just have to remember to take pictures of the food before everyone digs in.
Yes, there I am with the risotto. Notice the pot filler! I didn't think I needed it but it has already come in handy. I LOVE the stove as well. Backsplash to come…Ok everyone, thanks for listening.