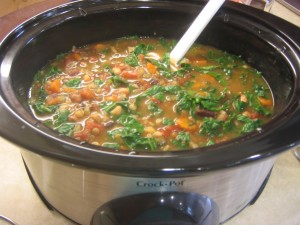 Sometimes when I food shop, I have to admit I just buy with my eyes (good marketing on someone's part). I'm trying to be better about using what is in the pantry even though it's against my Italian heritage not to have enough food stocked up for 6 months.
When I saw this bean and grain soup mix, I had to have it. There were lentils and barley and kidney beans, black beans, rice…you name it. So colorful and it just had HEALTHY written all over it. Well, not really but you know what I mean. So it went in the pantry, waiting for it's debut.
Friends were coming for dinner who are vegetarian and this seemed like a great reason to make this soup. Here's the trick; the soup mix contained both hard beans (like kidney and garbanzo) as well as barley and lentils. Each of these has different cooking times so I was a little worried how it would turn out. On top of that, I had plans during the day which meant it would be challenging to figure out how to cook this.
Then it hit me; the crock pot! I sort of felt like Doc from Back to the Future; ok, I watched it recently so it was on my mind. If my calculations were correct, this would work! My idea was to cook it at on high heat at first and then keep it on warm for a few hours to replicate the quick cooking. Long story short, it worked and I didn't even need the flux capacitor. The soup was delicious and the perfect consistency.
The trick is to saute and season the veggies first, add to the crock pot with plenty of water or broth and make sure it boils for at least an hour. This could be the perfect greeting after a long day at work. And make sure to have some pesto around to top it with (see the prior post) along with some good quality olive oil and freshly grated Italian cheese.
Crock Pot Soup
1 medium onion, chopped
1-2 carrots, peeled and chopped
1-2 celery stalks, chopped
Olive oil for cooking
Other veggies like broccoli, zucchini, peppers, etc, chopped
Seasoning like pepper, thyme, oregano, garlic
1 qt of stock (vegetable or chicken) or water
1 can of diced tomatoes with juice plus 1 can of water
1 cup of bean and grain soup mix (or just uncooked beans like white or kidney)
Optional: 1 bunch of kale or spinach, washed and roughly chopped (or you can use frozen chopped spinach)
Optional: 1/2 cup of uncooked pasta or 1 cup cooked
1. Heat a large saute pan to medium. Add oil and then veggies along with seasoning. I usually start with the onions and while those cook, I chop the carrots. While those cook, I chop the celery, etc. I save the softer veggies like zucchini for last. The sauteing brings out such delicious flavors; I don't like to skip this step. However, you can make the soup by just putting everything in the crock pot.
2. In a crock pot, add the broth, can of tomatoes plus the water (this also helps to get the rest of the tomato out of the can so you get a better yield from the can), cooked veggies and bean/grain soup mix. Set to High for 2 to 2 1/2 hours and make sure the soup is on at least Warm for another 2-3 hrs.
3. When the cooking time is completed (or when you walk through the door), check the beans for hardness. If necessary, turn crock pot back to high to cook longer. Add more water if necessary.
4. About 30-60 minutes before you want to eat, raise temperature on the crock pot to High. Add rinsed kale or spinach and allow to cook. When the soup is simmering, add pasta. Or, if you have some cooked pasta in the fridge, you can also use that. Make sure kale or spinach and pasta is tender before serving. Taste for seasoning and add salt if necessary.
5. Top with good quality olive oil, some freshly grated cheese and pesto if you have it. This is delicious served with some homemade wheat bread (look for that recipe soon!).