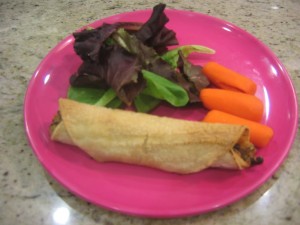 When it comes to feeding my kids, I listen to them with a grain of salt. Well, what I mean is that I give them some say when it comes to their meals but I add my own twist to it, to make sure it's healthy. So, that day, while shopping with the 4 1/2 yr old, I asked him what he wanted for dinner. He said, enthusiastically, "Chicken taquitos!".
Sure it would be easy to pick some up from the freezer section but I thought to myself, all I really need is some chicken and corn tortillas. But then, since I was in my new favorite store New Leaf and feeling very inspired, I thought, why not add some black beans and quinoa?
A friend of mine recently asked me "Do your kids eat quinoa?" My answer was "Sometimes." Some times they will just eat it and some times they won't. But I keep exposing it to them.
My idea was that if it's mixed with chicken, black beans, seasoning and some cheese, he might not notice. And it's not that I'm trying to necessarily hide it from him entirely but if he eats it 1) the meal becomes that much more nutritious and 2) he is getting used to that flavor so that when I do serve it, he's more likely to eat it since he's had it before. It's all about strategy. And if for some reason he really didn't like it, I'd pick out the chicken and black beans for him.
When I got home and started preparing the meal, I looked around for more ingredients. I had some frozen spinach and corn as well as some sour cream. I realized the filling needed something to bind it together and the cream would do that as well as provide a nice flavor. The beauty of homemade taquitos is that you can add whatever ingredients you want. You don't like quinoa? Use brown rice. Vegetarian? Omit the chicken and just use more beans. No dairy? Try adding salsa or guacamole to make it moist. It's hard to go wrong. The other tip; make sure you add some oil/fat to the outside of the tortilla to make it crisp.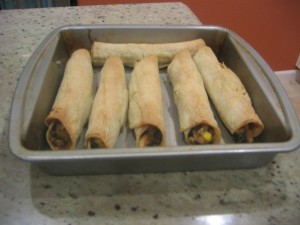 So now was the moment of truth. When these came out of the oven, nicely browned and crisp, I thought they looked great. But, would the children eat them? The youngest one didn't even look up. She just went for it. When my oldest started eating, he only ate the tortilla and managed to scrape the filling out. But, I didn't make a big deal about it. As we sat and ate, I thought, he is going to be hungry later. For whatever reason, even at 4 1/2, this still works. I offered to feed him. In my book, if a child will eat chicken, black beans, quinoa and spinach by way of me assisting, I have no problem with it. And in the long run, he polished off the whole taquito, quinoa and all.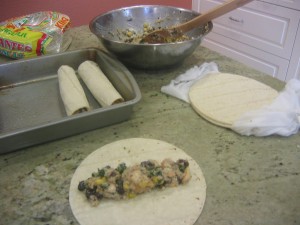 Here's the recipe. I'll try to remember the best I can but it's hard to make a mistake. Make the filling and make sure it binds. Fill corn tortillas and roll. Bake. Pretty straight forward. I hope you try it and that everyone in the family likes it!
Chicken, Black Bean and Quinoa Taquitos
1 1/2 cups of cooked chicken (I used tenders, cut them up and sauteed them)
1 cup of cooked quinoa
1 can of Trader Joe's cuban black beans
1/2 cup of frozen spinach
1/2 cup of frozen corn*
1/4 cup of sour cream
1/2 cup shredded cheddar cheese
Cumin, coriander, salt and pepper
Corn tortillas
Non-stick spray or vegetable oil
*Note-Since the quinoa was hot, I added the frozen veggies to the mixture and they defrosted on their own.
1. Preheat oven to 400 degrees.
2. Mix all ingredients except last two. Set aside.
3. Warm tortillas so they are more flexible. This can be done in a pan with oil, by wrapping in foil and placing in oven or wrapping in wet paper towels and microwaving for 30-60 seconds until soft.
4. Place a few tablespoons of filling in the middle of the tortilla. Roll up like a burrito and place seam side down in a pan, sprayed with non-stick spray or rubbed with oil. Once your pan is filled with taquitos, spray the top with non-stick spray or rub with additional oil to make sure the outside gets crisp.
5. Place in oven and bake until golden brown about 20-25 minutes. Cool slightly before serving.