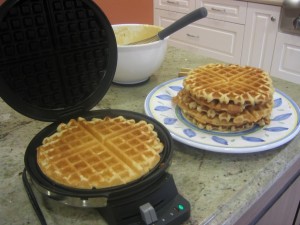 I love making waffles for the family; even on the weekdays. I always make extra and put them in the freezer. My almost 3 year old daughter would eat them every day if I let her. She's the one with the gluten intolerance so I've adapted a favorite recipe just for her. The thing is, these are so good, you'd be hard pressed to be able to tell that these aren't made with regular flour. And the best thing is that these are easy gluten-free waffles!
Making homemade waffles serves other purposes besides a happy tummy. It is much more economical and usually less processed, depending upon the brand you buy. The gluten free variety can cost between $3.25-$3.99 for 6. When you think of the price of flour, milk and eggs, you're spending much less money when you make it yourself.
If you don't have time during the week, take one day on the weekend and make a double batch. But I would not make more than double because when you begin to increase recipes like this often you have to decrease the baking powder.
When making waffles, there are 2 important aspects. Make sure you have some type of acid like buttermilk or yogurt and allow the batter to sit for 5-10 minutes before making waffles. Once you get the batter down, you can really have fun. Whole grain, banana, pumpkin, chocolate chip, blueberry…make what ever you or your family likes. And although this recipe is gluten free, you could easily substitute any other flour.
Give it a try. I think you'll love the results!
Easy Gluten-Free Waffles
makes 7 or 8 6″ round waffles
2 1/4 cups of gluten free flour (either my blend or Bob's 1:1 Gluten-free Flour; not the bean-based one)
1 tablespoon baking powder
1 teaspoon sea or kosher salt (or 1/2 teaspoon table salt; don't use the chunky stuff!)
1 teaspoon cinnamon
1 1/4 cups buttermilk, room temperature (see note below to make your own buttermilk)
3 tablespoons brown sugar or maple sugar/syrup
2 tablespoons melted and cooled butter, or vegetable oil like avocado
2 large eggs, room temperature
1 teaspoon vanilla
Note: to make 1 1/4 cups of buttermilk, place 1 tablespoon white vinegar or lemon juice in a 2 cup glass measuring cup. Add milk or milk substitute to measure 1 1/4 cups. Allow to sit for 5 minutes. If you do this first, you won't have to wait.
1. In a bowl, mix flour, baking powder, salt and cinnamon.
2. In another bowl, combine milk, butter or oil, sugar, eggs and vanilla. Slowly add dry ingredients to liquid ingredients, whisking together.
3. Allow to rest for 5 minutes before using. Batter will be thin; this makes it easier to pour. I usually use 1/2 cup of batter per waffle. Follow waffle maker instructions.
4. Cool before freezing.
Note: If you want crispier waffles, add more oil and/or cook longer.