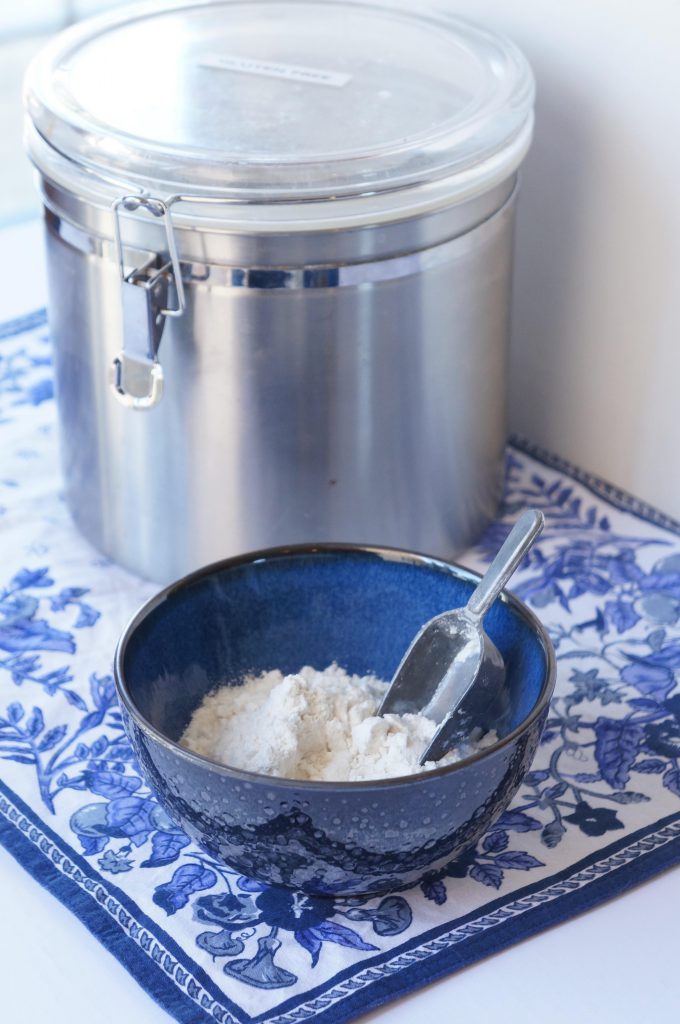 When I started my adventure in gluten-free baking, one thing that stressed me out was the amount of flours in a recipe. It was so off-putting, sometimes I did not want to bake. I was soon rescued by a friend, Amy Andrews of Ripe Food and Wine, who gave me her recipe for a flour blend that she had created. Over the years, I changed it to what you see below. I am very grateful to her for getting me started on the road to successful gluten-free baking.

One of the differentiators of my recipes from others you may see is the concept of using one blend for almost everything. This flour blend can be your new best friend. I mix between 6 and 9 cups at a time (1 to 1.5 times the recipe below). I use it for bread, waffles, pancakes, cupcakes, cookies, etc. with few exceptions. I almost always use it in other people's recipes.

One thing that I noticed with many recipes and pre-mixed flour blends was that these have a lot of "white" flour, for example white rice, potato and tapioca starch. My blend still has more nutritional value with the brown rice and millet; it's 2/3 whole grain. The upside is that it is light enough to create a baked good with excellent texture.

Another distinction from other flour blends is that I do not add xanthan gum to my mix for three reasons. I find that for most cakes, you only need 1/2 teaspoon xanthan gum for every 2 cups of flour but for cookies, you need more like 1 teaspoon for every 2 cups of flour. So it's better to mix according to the recipe. Another reason is that the xanthan gum, which lasts over a year, should be refrigerated. I don't refrigerate my flour mix for reasons of space and finding it is not necessary. Lastly, if I'm only mixing a small amount of xanthan gum with a large amount of flour, I would worry it would not get properly distributed. These are my views. If you are worried about the cost and not using it in a year, find a friend to split the bag. So, this is the secret to my success. I hope it helps.

Mix together and keep in an air tight container:

3 cups brown rice flour
1 cup millet flour(if you can't find or don't want to use millet flour, substitute with brown or white rice flour instead)
1 cup tapioca flour or starch
1 cup potato starch (not flour)
Here's to happy baking. Let me know if you like it. Here's another option for a second flour blend. I've been using this one lately to more closely replicate white flour. 
2 cups superfine brown rice flour
2 cups superfine white rice flour (or 1 cup sweet rice flour and 1 cup white rice flour)
1 cup tapioca flour or starch
1 cup potato starch (not flour)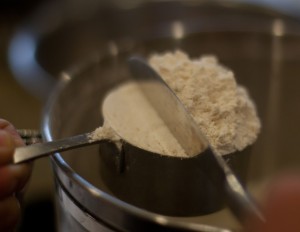 Tip: When you measure the flour into the large container, it's ok to put in a little more or less of a flour. I have found it's ok to estimate. However, when you measure flour for a recipe, fill the cup with about half of the flour then scoop flour on top, enough so that it is heaping. Use a flat edged knife to level the cup to measure exactly.

The Warm Kitchen gluten-free cookbook is chock full of tips. This is one of about 40! If you want to see my Instagram video series on Gluten-Free Baking Tips, go here.