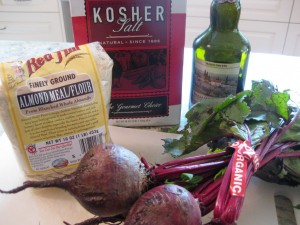 This is also called Beeta Ganoosh by Aaron Dinwoody of Farm Fresh Solutions. He should have full credit for this recipe. I first had it when we visited Tunitas Creek Ranch, near San Gregorio, and have had it since on a few occasions. Lucky for us, he is now selling it at the Half Moon Bay Farmer's Market and at New Leaf Community Market.
One day, while at the farmer's market, I saw some beets and got inspired. I thought, I love that dish and I think I could make it. My email inbox is humungous and one reason is that I save things I might need one day. I remembered this recipe was there. So, I bought my organic beets, went home and found the recipe. It called for almonds so I thought, well almond meal should work, so that's what I used.
All I know is that 45 minutes after I cut the beet, my "caviar" was done (a friend who tried it gave it that name). I was in heaven. Served on a brown rice cracker (remember, I'm gluten free now), it was the perfect appetizer. And it made so much I was able to serve it the next day, too.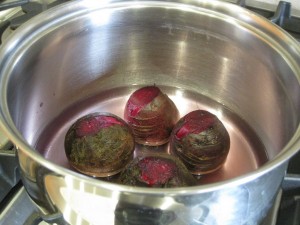 Later, after talking to Aaron, I learned that what I created was fairly close to his recipe. I've included his variations below. And even if you don't make the caviar, use the process to cook fresh beets, any night of the week. Another way to serve the cooked beets would be to slice them and add some olive oil, balsamic, salt, pepper and maybe some goat cheese…yum.

As far as the rest of the family, my kids still have not developed a taste for beets. I know I didn't until recently. That's ok; more for us.
Let me know what you think and share it with your friends if you like it. Enjoy the fruits of summer!
Beet Caviar
1 lb Organic fresh beets, scrubbed clean, top and bottom cut off
1 cup Almond meal (or blanched, slivered almonds)
1-2 Tbl Balsamic vinegar
2-4 Tbl Olive oil
1/2-1 tsp salt
Optional: 1-2 garlic cloves, lemon juice
1. Cook the beets. This method could be used to make fresh cooked beets for any recipe. Place the beets in a pot, fill with water so that about 1″ of the beet is covered in water.
2. Bring to a boil and then lower to a simmer. Cook, covered, for 20-30 minutes or until the largest beet is fork tender.
3. Remove beets from pot and allow to cool for at least 10 minutes (otherwise they are too hot to peel).
4. Remove peel from beets using your fingers. Warning: your fingers will be tinted pink! Use gloves if necessary. The pink will subside probably by the next day. And don't do this with a white shirt on.
5. Place beets and remaining ingredients in a large food processor. Start with the lower amount of the ingredient, for example 1/2 tsp of salt. Blend together and taste. Adjust for taste and texture. It should have a smooth consistency.
6. Serve with crackers or bread. Will keep in the fridge for about 5-7 days.