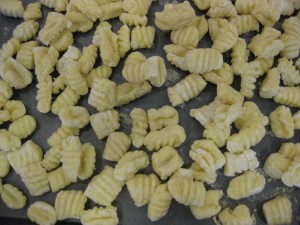 Homemade Gnocchi
I can still remember my Aunt Vincenzina making gnocchi at our house when she was visiting from Rome. I was only 10 yrs old but can visualize the rolling, cutting and flour, everywhere. I some times forget how much I like them. This weekend, I decided I needed a fix and was motivated. I also realized they are actually pretty easy.
I started the potatoes around 4pm and we were eating at 7pm. Don't be alarmed; it's not 3 hours of work, just an hour to bake, some time to cool, time to make the dough and roll and then let the little "snow snakes" get some air before boiling.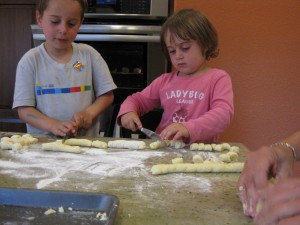 Don't be afraid to get the kids involved in this activity either. I rolled the ropes and they were in charge of cutting. By the time they cut all of the gnocchi, I was half way through rolling them off of the fork. It was fun making this a family affair.
And, in case you are wondering, the ones I made were gluten free. The recipe is here. Since the only difference is really the type of flour, I'm including the traditional one here. Enjoy and mangia bene!
For the gluten-free version, use this recipe.
Gnocchi
2-2 1/2 lb russet potatoes (about 4 large)
2-2 1/2 cups all-purpose flour
1 tablespoon melted butter or olive oil
2 eggs
1 1/2 tsp salt
1. Scrub potatoes and poke 3-4 times with a fork. Bake in a pre-heated 400° oven or 375° convection for about an hour or until soft inside. Baking the potato keeps the moisture down and is better than boiling potatoes for this recipe.
2. When potatoes are soft, remove from oven and cut in half lengthwise. Cool until you are able to handle them. Scoop potatoes out with a spoon and place into a potato ricer. This removes the lumps. If you don't have a potato ricer, mash with a fork until there are no lumps.
3. Cool potatoes slightly. They should not be hot. In a large bowl, add potatoes, butter or oil, eggs and salt. Mix briefly. Add about half of the flour and mix. Continue to add flour until the dough comes together but is no longer sticky. It should almost feel like play dough; tacky but not sticky. You may not need all of the flour. Reserve some flour for your work surface.
4. Roll pieces of the dough on a floured work surface into ropes, about 3/4″ thick. Cut pieces about 1″ long.
5. Using a fork, roll the gnocchi pieces from the top to the bottom, giving it a ridged look. Once all pieces are rolled, it is recommended to allow gnocchi to sit out for 15-20 minutes to dry out. They can be cooked at that point or frozen (place on a baking sheet or dish, freeze, then place in a freezer bag).
6. Bring a large pot of water filled about 2″ from the top, to a boil. Cover the pot to bring the water to a boil quicker. Once boiling, add 1-2 tsp of salt. Gently place gnocchi into the water and stir with a slotted spoon.
7. Cook until all gnocchi are floating on top, stirring occasionally. Cook 1 more minute. Remove with a slotted spoon (draining can cause the gnocchi to stick together).