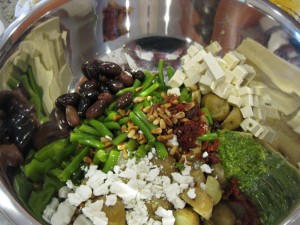 I have to confess. My good friend Alison made this dish at a pot luck. It was delicious! I looked at the ingredients, asked for her permission and created my own twist on it. The combination of flavors is just delicious.
The first time I made it, I didn't have cherry tomatoes; I used sun-dried instead. At the Ferry Building for my demo, we used toasted walnuts both in the salad and in the pesto. If you want to have it for dinner, add some tofu (as seen in the picture), chicken or garbanzo beans. Once the green beans and potatoes are cooked, this dish is a snap to put together. Give it a try! (I'll post the video I made at the Ferry Building at some point; check back!).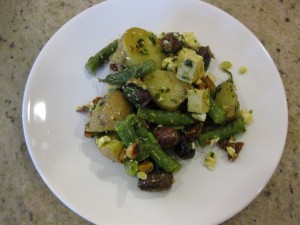 Green Bean, Pesto and Potato Salad
Ingredients:
* 1/2-3/4 c pesto sauce
* 1 lb green beans, cut in half and steamed until tender
* 1 lb red or yellow creamer potatoes, cut in 1/4's and steamed
* 1/2 pt grape or cherry tomatoes, halved or 1/2 c sun dried tomatoes, chopped
* 1/2 c pine nuts or chopped walnuts, toasted
* 1/2 c Feta cheese, crumbled
* 3/4 c kalamata olives, halved
* 2 Tbl red wine vinegar
* 4 Tbl olive oil
* Freshly ground pepper
* Salt to taste
Combine all ingredients in bowl and serve warm or cold.