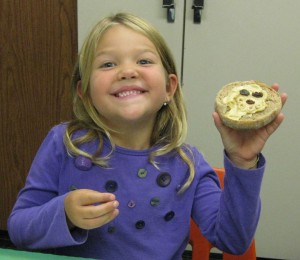 I created this recipe in hopes of it being a big hit at our local festival. I was co-chairing a food booth for my son's school and I thought this would fly off of the proverbial shelves. A combination of bad location and signage led to less than enthusiastic results. However, on the upside, I created something that tasted really good.
Why bother making a pumpkin cream cheese? Well, if you like the flavor of pumpkin pie, you'll probably like this. When you make your own, you control the ingredients, like sugar and spices. By adding pumpkin, you also boost the nutrition, especially the fiber.
We served it on English muffins and then gave the children raisins and Cheerios with which to make faces. It's also good as a dip for pretzels (think salty with sweet; yum) or apples and would be great on a pumpkin muffin. You could even make a sandwich out of it with sliced apples…not a bad idea!
It will keep in the fridge for a week; I wouldn't try freezing it. Remember, keep key ingredients on hand (I always have at least 1 can of pumpkin in my cabinet) and preparing food will seem much easier. Enjoy.
Pumpkin Cream Cheese
8 oz plain cream cheese, softened (the low-fat cream cheese will make the product too runny)
1/2 c pumpkin puree (freeze any that is leftover or make pancakes another day)
1 tsp cinnamon
1/2 tsp ginger
1/2 tsp nutmeg
1/4 tsp clove
1/4 c brown or cane sugar
Yield=2 Cups
Using a hand mixer, beat cream cheese until light and fluffy. Mix in other ingredients. Refrigerate for 30 minutes before serving.