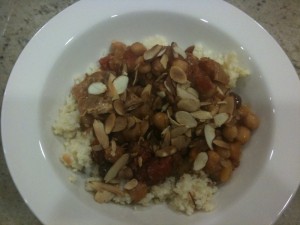 Now that the cookbook is really coming along, I'm deciding which recipes to include. When I looked at the recipe for Moroccan Chicken, I realized it would do well in the crock pot (or slow cooker; one's just a brand name). In the cookbook, it's made in a pan but I wanted to try a variation to include. So, here it is.
The bottom line was a delicious combination of flavors and very tender chicken. You can use chicken breast but the thighs come out better when cooked with this method. I chose millet because it's very nutritious and different from rice or pasta. The almonds offer a wonderful crunch and flavor to the dish. If you are a vegetarian, omit the chicken and add an extra can of garbanzo beans.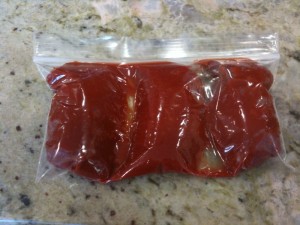 If you never know what to do with leftover tomato paste, check out this tip. Place remaining tomato paste in a small plastic bag and squeeze out most but not all of the air. Make divisions in the bag and place in the freezer. When you need a tablespoon or so, it's easy to break off a part and the paste will defrost in minutes. This is an example of a tip I'll be providing in the cookbook.
Back to the recipe. The night I made this, the children ate the chicken but not the other ingredients. Since they both like cinnamon, I assumed they would like it but of course, assumed wrong. At first, I was disappointed but then realized that at least they ate something sort of different.
A large part of feeding children is just introducing different flavors and textures. Maybe next time they will be more adventurous and try the garbanzo beans (which they normally eat; go figure). After tasting it myself, it's definitely a winner and cookbook-worthy! I hope you'll try it.
Moroccan Slow Cooker Chicken
1 medium onion, diced
1/2 tsp each cumin, coriander, cinnamon and pepper
1-2 garlic cloves, chopped
1 tsp salt
1- 1 1/2 lbs boneless skinless chicken thigh
14 oz can of diced tomatoes
1/2 c water (use the tomato can)
14 oz can of drained, rinsed garbanzo beans
1 Tbl brown sugar
1/4 c raisins
1/3 c chopped, dried apricots
2 Tbl tomato paste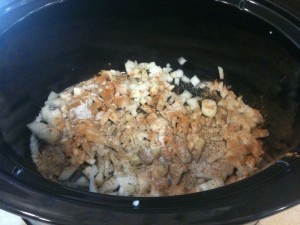 Add the onions first and then the spices, making sure to sprinkle all over. Add garlic and salt.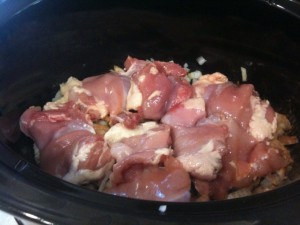 Add chicken thighs on top.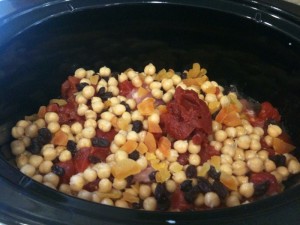 Add remaining ingredients. Cook on High for 3 hours.
After it's been cooking for a while, give it a stir so the tomato paste is all incorporated. Serve over Almond Millet.
1 c millet, rinsed
2 1/2 c water
Pinch of salt
2 tsp butter
1/2 c toasted, sliced almonds
In a pot, add millet to water with the salt. Bring to a boil, cover and lower to a simmer. Cook about 25-30 minutes or until all of the water is absorbed. Add butter and almonds and serve.