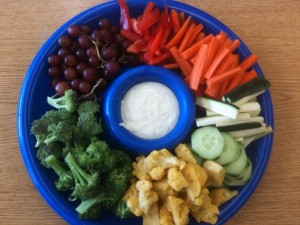 From the top, red pepper, carrots, zucchini sticks, cucumbers,
cheddar cauliflower, cooked broccoli, raw broccoli and grapes (I needed something purple!)
On the last day of school this year
, I didn't walk into the classroom with cookies or cupcakes. Sorry, call me boring or no fun but that's my style. Part of what I love about what I do is that I can test theories on children without them even knowing it. I am pretty sure if I walked in the door with a platter full of vanilla frosted cupcakes, these 20 children would have wooped and woohooed. Although I think they would have been surprised. All year, I have been talking to them about eating healthy and what that means. I also told them it's ok to have cookies, candy or a treat;
after
they ate something that was good for them. I don't believe in abstinence when it comes to sweets; my rule is as long as my kids have had some type of growing food first (thanks Dayna for the great term!), it's fine. My hope is that some of the children I worked with this year actually listened to me.When I walked in the classroom with my container of cut up vegetables, I wasn't even sure how it would go over. The children stood around the table while I explained to them we were going to make a rainbow of veggies. When I talk to children about nutrition, I often suggest they eat a "rainbow" of fruits and vegetables. This helps explain why we need a little of everything; many of the different colors equate to vitamins.
I used a blue platter for the blue and purple grapes. Making beets or cooking blue potatoes wasn't in the cards that morning. They all helped decide in which order the vegetables were placed. Their enthusiasm was contagious!
I then went around and asked each child which veggies they would like along with some ranch dip. Some wanted all; some only wanted a few. There were 4 tables of 5 and by the time I was serving the second table, the first one was done and asking for more. I asked them to wait patiently until I finished serving everyone.
So here was a room of 5 and 6 year olds inhaling (and I'm not exaggerating) fresh, mostly organic, vegetables. My son even tried the red pepper (but still doesn't like them). As parents, we sometimes think that giving children treats and cupcakes is fun for them. Be assured, these children did not even ask where dessert was that day. In fact, they hounded me for more! This was even after their snack.
I hope this post is inspiring to you. I may not be able to change the world but if I can help just a few people, I'll be happy. Leave a comment if you like this. Thanks!