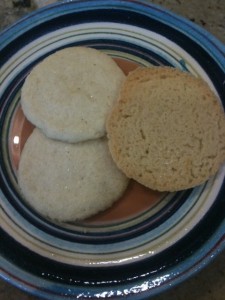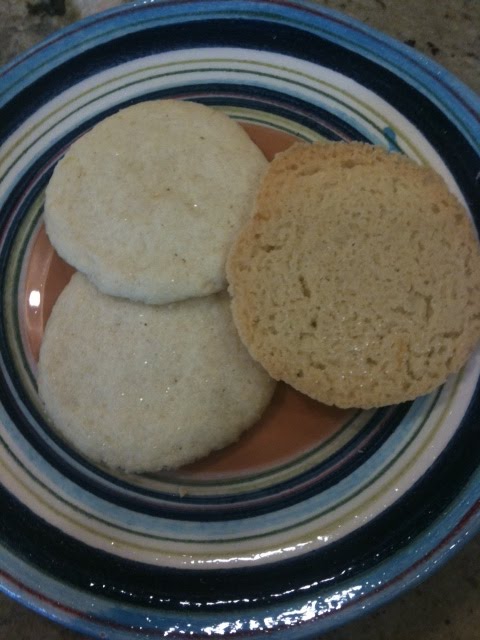 Gluten-free Lemon Almond Cookies
Notice the nice browning on the bottom. You get that from a good pan or using a silicone baking mat
I tend to over think blogging so my intent is to be short and sweet (good luck to me). Many years ago, I had a recipe for Lemon Almond Cookies. I had copied it from a magazine (specifically from Gourmet, Feb 1990) and kept it all of these years. It is hand written on a recipe card; I added my own interpretation and instructions. At Christmas, I always made these delicious, sweet and crisp cookies.
I'm not sure of the last time I made them but in recent years, with a gluten-free diet, I haven't even attempted them. This year, I just couldn't take it and decided to convert it myself. My palate is fairly fine-tuned so I'm pretty good at distinguishing flavors. These hit the mark 100%. I'd be very surprised if anyone could tell (take a number if you want to come over to try one).
Of course, the downside is taste-testing and what that means to my middle. And by taste-testing, I mean eating 3-4 a day just to make sure they are still as delicious as the last time.
So, enjoy. I'm now having some fun trying to convert old recipes to gluten-free. For those who aren't gluten-free, don't fret. The original recipe is here.
Gluten-Free Lemon Almond Cookies
1/2 c almond meal
3/4 c gluten-free flour blend
1/4 c sweet rice flour (white rice will work as well)
1/4 c cornstarch
1/4 tsp sea salt
1/2 tsp xanthan gum
1 1/2 sticks (3/4 cup) unsalted butter, softened
1 cup plus 2 tablespoons organic white sugar
1 large egg
1 1/2 tablespoons freshly grated lemon zest (use a microplane for this)
1. In a small bowl, mix flours, salt and xanthan gum.
2. In the bowl of a stand mixer, cream together the butter and 1 cup of the sugar for 2 minutes until fluffy. Scrape down the sides.
3. Beat in the egg and the zest until well blended, scraping down the sides.
4. Add the flour and mix on low until the dough is combined well. Raise the speed to medium and mix for 20 seconds. I found this helps to "gel" the xanthan gum.
5. Cover and chill for 1-2 hours.
6. Form the dough into walnut-size balls and arrange them 2 inches apart on baking sheets lined with a silicone baking mat or parchment paper.
7. Place the remaining 2 tablespoons of sugar on a plate. Dip the bottom of a moistened glass in the sugar and press down on the cookies slightly, flattening them to about 2 inches in diameter, maybe a little less. These will spread.
8. Bake the cookies in the middle of a preheated 350°F oven for 12-15 minutes, or until they are golden around the edges. Halfway through the baking time, rotate pans in the oven.
9. Allow to cool for 5 minutes then transfer them to racks.
Yield-3 dozen