Running out of gluten-free and dairy-free lunch ideas for your kids' lunchboxes? This can be a particular challenge when most traditional options revolve around bread and cheese. Of course you can always use gluten-free bread to make the traditional turkey or peanut butter and jelly, but why not think outside the standard lunch box fare and prepare a fresh salad? Children are often big fans of Caesar salad for the creamy dressing, pleasantly non-bitter romaine lettuce and the crunchy croutons. I love to use Easy Lunchboxes since it's easy to keep everything separated; the croutons would be a bit mushy if I put them on in the morning!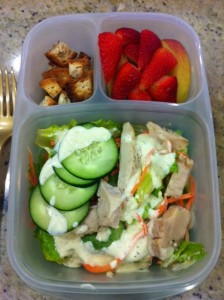 I usually make this dressing with Parmesan cheese but have had a few people request a dairy-free version. I adapted this recipe, which is a fan favorite, by eliminating the cheese and adding the Dijon mustard. In my opinion, it's almost identical. My family gave it the double thumbs up! If you want really traditional, you can top it with anchovies (a bit too fishy/salty for our tastes, though).
The recipes below give you an option of that beloved crunch and the creaminess you get from a restaurant Caesar salad without the use of wheat or dairy. I make the dressing with regular mayonnaise, which is made from egg and naturally dairy free, and the croutons I prepare from gluten-free sliced bread or baguette. With a few key ingredients on hand you'll be surprised how easy it is to prepare!
Dairy-Free Caesar Salad Dressing (or dip)
1-2 garlic cloves, cut into 4-6 pieces
1/2 cup regular mayonnaise
3 tablespoons olive oil
1 1/2 teaspoons kosher salt or 1 teaspoon table salt
2-3 tablespoons fresh lemon juice
1/4 teaspoon ground pepper
1/2 teaspoon Dijon mustard
Place all ingredients in a small food processor and blend for 1-2 minutes. Keep refrigerated until ready to use. Toss with crisp, romaine lettuce pieces, cucumber slices and shredded carrots. Optionally add 2-3 ounces of grilled chicken per person.
Gluten-Free Croutons
½ loaf gluten-free baguette bread, cubed, or about 6 slices gluten-free bread cut into cubes
2-3 tablespoons olive oil
1/2 teaspoon kosher or sea salt
1/4 teaspoon each ground black pepper, oregano, and thyme
Toss bread with olive oil and seasonings. Place on a baking sheet. Bake in a 400F oven until brown and crisp. Store covered at room temperature.