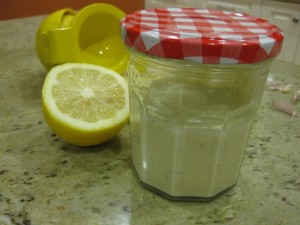 When I went to culinary school, I remember when we learned how to make Caesar salad table-side. It was always delicious, but the raw egg in the dressing always bothered me, especially after taking the Food Sanitation course. Salmonella is scary!
Some recipes call for coddled or partially cooked eggs. Sure, you might kill some of the bacteria but it also seemed like a lot of effort. Another food sanitation revelation was that commercial mayonnaise is not a bacterial culprit; fresh mayo is another story since it's made with raw eggs. Commercial mayonnaise uses pasteurized eggs and plenty of vinegar; acid is an inhibitor to bacteria. So, although your grandmother may have told you anything with mayo can make you sick, in today's times, it's actually closer to the opposite.
So, instead of using raw or even partially cooked eggs in my Caesar dressing, I started using mayo. It gives the dressing a wonderful creaminess and is "safer" than raw eggs. It's also super easy if you have a mini-food processor; if you don't, just mince the garlic finely and whip ingredients with a whisk.
My family loves creamy dressing, especially this one which is fresh and bright. Don't make the assumption that I did which was that kids won't eat salad. My children constantly surprise me with what they will and won't eat. I just keep trying.
If you think your children won't eat salad, one of the best bits of advice is getting them involved in the process. Let them help pour in the ingredients and after you carefully put the top on, let them press the button. Worry less about the mess and more about the fun and learning that is happening. Get a big bowl with a salad fork and spoon, toss in some lettuce, some dressing and let your kids do the rest. I hope you enjoy this one.
Fresh and Easy Caesar Salad Dressing
Makes 1 cup or about 8-10 servings
1-2 garlic cloves
1/2 c regular mayonnaise
1/4 c grated parmesan (or any hard Italian cheese like Romano)
2 Tbl olive oil
1 tsp Kosher salt or 1/2 tsp table salt
Juice from 1/2 lemon
1/4 tsp ground pepper
Place all ingredients in a small food processor and blend for 1-2 minutes being careful not to overprocess; the mayo can "break". Keep refrigerated until ready to use. Toss with crisp, romaine lettuce pieces and shredded carrots (optional). Skip the croutons unless you have them in the pantry.
This dressing keeps for a few weeks in the fridge.