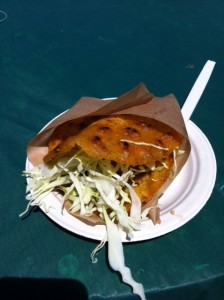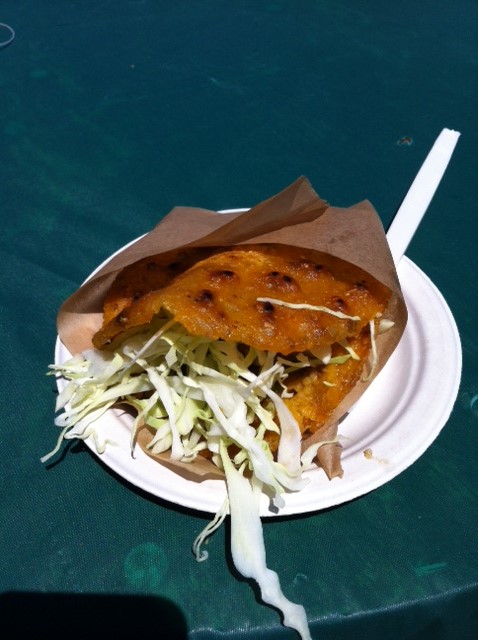 Yummy dish from Nopalito SF
I now know why people love this event and "love the West", one of the mottos of this year's 2 day festival put on by Sunset Magazine. From the food and wines to gardening and travel, the annual Weekend Celebration had something for everyone, even children.
Located in Menlo Park, California, the corporate headquarters of Sunset Magazine sort of feels like being a kid in the proverbial candy store with its kitchens and manicured gardens. There was so much to see. I attended the event on Saturday and boy, was it hot! Sunset thought ahead and had free water refills at a number of locations. Although it was quite warm, there was shade to be found here and there and covered tents like the ones for the food demos (how convenient!).
There were free samples from Heinz (hot dogs and grilled potatoes), Tillamook (yogurt and a toppings bar), Kettle chips, Blue Bunny ice cream, and more. If that didn't fill you up, there were over a dozen food trucks and booths. You could dine on anything from Indian to Venezeulan to tacos and creme brulee. Beer and wines were from all over the west, including some lesser known areas of California. I didn't partake but I think next year I'll plan to pace myself (and bring a driver!).
I felt like a bit of a rock star, I must admit. Honda, one of the sponsors of the event, was gracious enough to lend me a car for the weekend so I could test drive their Accord. I've owned Hondas in the past and remember why I like them; they handle well, are comfortable and have decent gas mileage. It sure was fun explaining to people why I had a new car for a few days!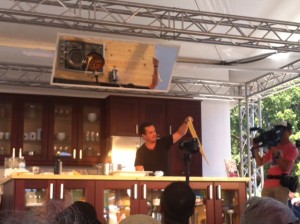 Fabio making pasta before our eyes
Besides me (ha!), there certainly were a number of (chef) rock stars at the event. I had the pleasure of seeing Susan Feniger (she is quite funny) and Fabio Viviani (he was hysterical) of Top Chef fame. I was so inspired by his "you can make pasta in 2 minutes and I'm going to show you how" in his cute Italian accent that I went home, threw on an apron, found a recipe I have been meaning to try and…yes, made homemade (gluten-free!) pasta. Ok, it took only 2 minutes to make the dough and a bit more for the rest of the process but that was fine. Believe it or not, I have certain dishes that are not in my comfort zone; gluten-free pasta WAS one of those but is no longer. The only problem is that now I might start eating more carbs. (see below for more photos).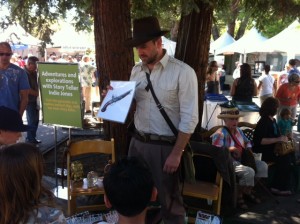 I know this is only the tip of the iceberg of the event but I think it's going to be a new tradition in our house. The kids really enjoyed the arts and crafts table at the Tillamook station, the story reading by Indiana Jones, the talk given by CuriOdyssey with the owl, the climbing wall, and much more. It was just a little hot for them but they get points for being troopers.
If you haven't had a chance to attend the Weekend Celebration, I highly suggest you make plans for next year. I'll try to take more pictures of food and less pictures of Fabio; promise. Maybe. I'll see what I can do!
Fabio was really funny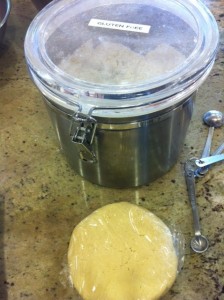 My pasta dough with my gf flour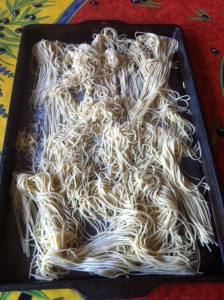 GF spaghetti…molto bene!