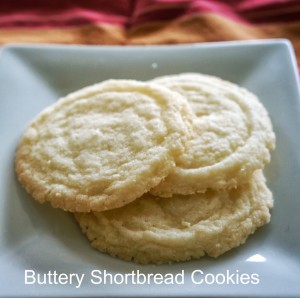 I adapted this recipe from a regular recipe and I have to say, it's just as good. I do believe my English mother-in-law would approve.
When making these cookies, make sure you use xanthan gum. I taught a cooking class one day and the student forgot the xanthan gum. That cookie looked good and smelled good but when we tried to take them off of the tray, they crumbled. Don't worry; we didn't throw them out. These were still edible but I wouldn't bring them to a party.
Another tip for baking any gluten-free cookie (there are more tips on page 228 in my book, The Warm Kitchen) is to make sure you use either parchment paper or a silicone baking mat. These will stick to a regular baking sheet.
What if you are dairy-free? No problem. I would suggest using Spectrum's organic shortening. It replicates the texture of butter very well. There is also a butter flavor. I do not like the taste of the butter substitute sticks. Simply my opinion.
The recipe has no eggs so if you make it dairy-free, it will also be vegan. Enjoy!!
Gluten-Free Shortbread (page 232 and 233 from The Warm Kitchen)

You will be amazed at how much these taste like regular shortbread. The key is to not overwork the dough. If you don't have the ingredients for Amy's blend, other gluten-free flour blends will work but pick one that does not have xanthan gum or else it will throw off the proportions. A Silpat or parchment paper is necessary so that the cookies do not stick.
Makes about 24-30 cookies
2 cups Amy's Gluten-Free Flour Blend
½ cup white rice flour plus extra for rolling
1 teaspoon xanthan gum
½ teaspoon flaky sea or kosher salt
1 cup unsalted butter, softened, or vegetable shortening (for dairy-free)
½ cup white sugar
1 teaspoon gluten-free vanilla extract
1.Preheat the oven to 325°F.  Prepare 2 baking sheets with parchment paper or silicone baking mats.
2.In a bowl, mix the flours, xanthan gum, and salt together with a whisk. Set aside.
3.In a stand up mixer or with beaters, beat the softened butter or shortening and sugar until it just comes together, being careful not to overmix. Add vanilla and mix briefly.
4.Add the flour and mix until it is combined well. It might look crumbly at first, but keep mixing and it will come together.
5.Place dough on the counter. Use some white rice flour to keep from sticking. Roll into a log. Using a knife or pastry cutter, cut circles approximately 1/2" thick. You may need to pat them to make them more round. Place on baking sheets.
6.Bake for 12-14 minutes, rotating pans once. Cookies should be just golden on the edges.
7.Remove from oven and let rest for 3-5 minutes. Carefully remove from baking sheets, using a spatula, and place on a rack to cool. They can crumble easily but are so good!
Variation: Lemon Shortbread
Add 2 tablespoons of lemon zest to the dough in step 4.