Following a dairy-free diet, I have generally accepted skipping cheese. (note: when I say dairy-free, I really mean casein-free so goat's or sheep's cheeses are not options). My kids are not huge fans of cheese substitutes so often we have pizza with only sauce and toppings, "nachos" with salsa and meat, and quesadillas with only refried beans.
At a recent food show I attended, I tried some of the dairy-free and vegan products from Follow Your Heart. They mentioned they were rolling out some revised products so I was anxious to give it a try. I particularly liked the ranch and bleu cheese style salad dressings. That day, the "cheese" shreds were being served on a flour tortilla so I didn't try them (throughout this post, I refer to them as "cheese shreds" but as you see, they are called Vegan Gourmet Shreds; it is not cheese).
They offered to send me some samples so I could have my family try them. I was quite excited to have arrive the mozzarella, cheddar style, and spicy fiesta shreds along with the two dressings, ranch and bleu cheese.
Follow Your Heart provided me with free samples for this review. The opinions expressed here are my own.
I tried the cheese shreds a few ways: quesadillas, pizza, burritos, and grilled cheese. Unfortunately, my kids weren't thrilled. But don't worry, I liked it. And, when I put just a light amount of cheese on their pizza along with some other toppings, they basically didn't notice. These shreds actually do melt but the taste is different from cheese. I did find the fiesta a bit too spicy but that's just me. If you like heat, especially on Mexican style food like nachos, you might love it.
**News Flash** While writing this review, I tried the mozzarella shreds (again) on a pizza topped with chicken and spinach. The crust was made from my gluten-free cookbook The Warm Kitchen. They both ate it enthusiastically! So, never say never and never give up with kids; always try again.
I don't believe, though, that one (or even two) child's opinion should influence you so I gave some of the samples to a friend whose son also eats dairy-free. I was very happy to have the mom give me this feedback:
So, my son loved the cheese! This is really amazing coming from someone who hasn't had any in 4 years & was always grossed out by cheese on others pizza. Me it melted well, tasted good & even my husband liked it ( coming from the full on dairy guy, this is a big compliment). The dressing is not a big fave, but we are not a creamy dressing bunch. The mozzarella type cheese was preferred over the mix. Hope that helps, & I'll definitely buy the cheese.
My own kids skipped the dressings after announcing they didn't like creamy dressings (except for my caesar) but I used the ranch for dipping carrots and the bleu cheese for a few fancy salads. Think it's hard to make a restaurant-style salad? Nope. Here's how I did it:
On the bottom, I placed lettuce and a bunch of things I got from the salad bar (great time saver): cabbage, scallions, red cabbage, shredded beets and toasted pumpkin seeds. I topped it with a grilled burger which was leftover from dinner the night before and Follow Your Heart vegan bleu cheese dressing. Delish!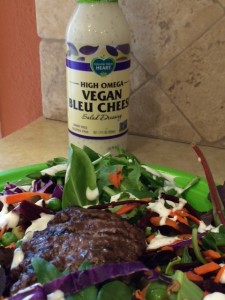 By the way, I'm a little stubborn and was determined to make SOMETHING that my kids would like with the cheese substitute. One of our favorite bread-type treats is pan de bono or Colombian cheese bread. The only problem is that every recipe I have ever seen calls for cheese. So, I decided to play with it a little; it's not a simple substitution to get the right texture. Keep an eye out for the recipe for gluten- and dairy-free pan de bono. I think you will be impressed!
Here are some more photos from my experimenting. Let me know what you think if you haven't tried this brand yet: