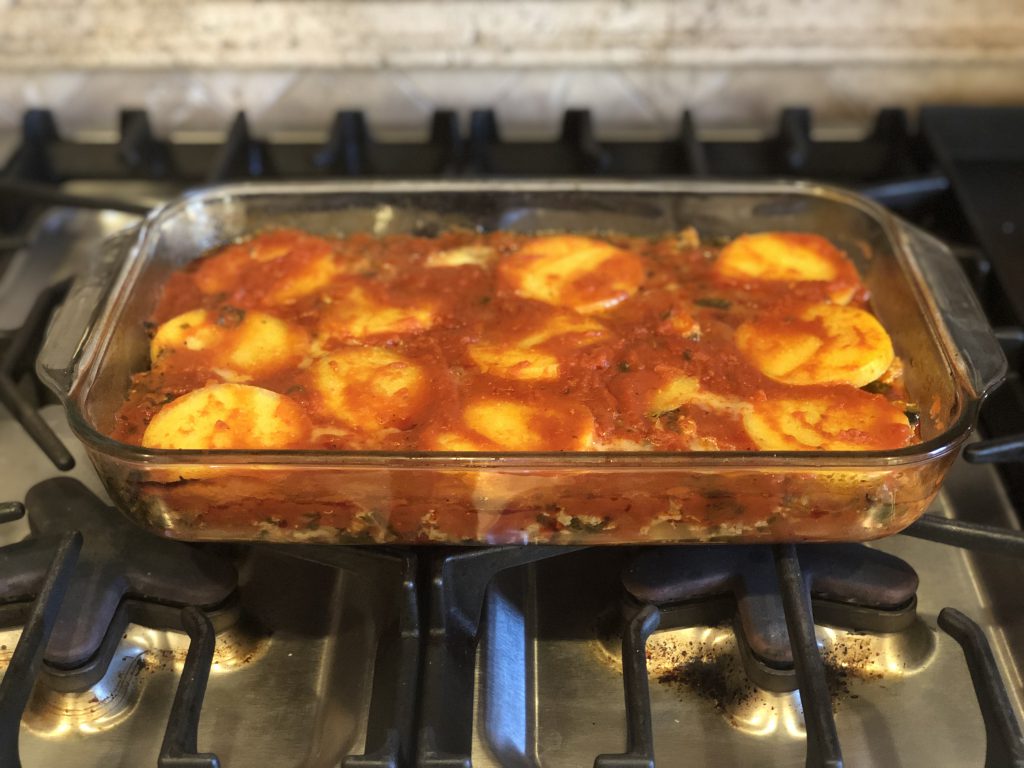 If you are craving lasagna and don't have the time to cook lasagna noodles (regular or gluten-free), you can use a tube of pre-cooked polenta and raw zucchini slices to make this gluten-free polenta zucchini lasagna.
This version of lasagna doesn't include cheese either. If you are looking for a vegan cheese option, you can use my recipe for cashew cheese. If I had had more time, I might have opted for that.
If you want to make it vegan, skip the meat. Simple!
I'm not going to embellish; just give you the recipe for this yummy gluten-free polenta zucchini lasagna. If you have the ingredients in the house, this comes together very quickly.
Gluten-Free Polenta Zucchini Lasagna
Ingredients:
1 lb ground chicken thigh
1/2 onion, chopped
2 teaspoons olive oil
1/2 teaspoon kosher salt
1/2 teaspoon ground sage
3/4 cup frozen chopped spinach, slightly thawed
24 ounce marina sauce (homemade or store-bought)
2-3 medium zucchini, sliced lengthwise
1 tube (18 ounces) precooked polenta, cut into 1/4″ slices
4-5 slices or about 1/3 cup shredded vegan cheese (I like Follow Your Heart mozzarella-style slices)
Directions:
Heat large saute pan over medium heat. Add chicken to pan and cook until almost fully cooked. Add onion, oil, salt, and sage.
Continue cooking until onions are translucent and beginning to brown. Add spinach and continue cooking until fully defrosted. Set aside to cool slightly.
Preheat oven to 350F. Lightly grease 13″ x 9″ pan.
Place 1 cup of tomato sauce on the bottom of the pan. Add a few tablespoons of water and evenly spread. Lay out zucchini slices on top of the sauce.
Top with polenta slices (about 12 slices). Add chicken meat and spread evenly.
Add 1 cup tomato sauce and a few tablespoons of water evenly over the pan. Spread if necessary. If using slices of vegan cheese, cut into strips. Evenly divide vegan cheese over the pan.
Top with the remaining polenta slices and more tomato sauce with water.
Cover with foil and bake about 45 minutes or until bubbling. Remove from oven. Remove foil and allow to rest 10-15 minutes before cutting.