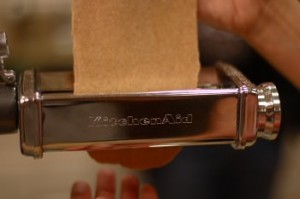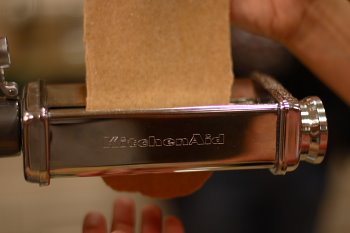 I hope you read this blog not just because you want a new recipe but maybe because you look to me for advice in the kitchen. Cooking utensils and gadgets are things I love and I feel they make my life easier. Creating a good meal is a combination of good food and the right tools.
Ok, so here it is. Not counting a good chef and paring knife along with a big cutting board, these are a few of my favorite things:
(and if you want, you can sing to the tune of "My favorite things" from The Sound of Music!)
Three different size processors for chopping and mixing
Two little whisks for blending and whisking
Scissors for cutting pizza and calamari rings
These are a few of my favorite things.
A silicone baking sheet which means nothing sticks
A heatproof rubber spatula that's also good for licks
Prep lists and shopping lists to make my heart sing
These are a few of my favorite things.
Glass measuring cups,
An instant read thermometer;
For me these are best.
I simply remember my favorite things
And then I don't feel so stressed.
Cute, wasn't it? Let's talk about why and what these things do.
1. I bought one of those combo immersion blender/whisk/mini choppers a few years ago and found it to be something I really can't live without. Recently, I replaced my old set which was starting to make a gr-rrr-rr noise with the KitchenAid Immersion Hand Blender with Chopper. I use the blender for shakes and soups. It's excellent for pureeing baby food, right in the pot. The mini-chopper makes hummus, bean spread, tuna salad and pesto. The whisk attachment is irreplaceable for a quick fresh whipped cream or beaten eggs. This is really worth the money.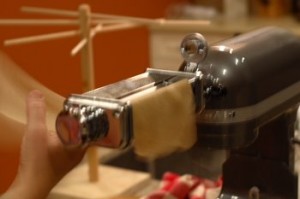 2. Speaking of KitchenAid, a stand mixer is another one of those things I feel is a must-have in the kitchen; I just couldn't figure a way to work it into the song. I make cakes, cookies, bread dough, pasta (see photo left and above) and occasionally fresh whipped cream. I had a 5 qt mixer and felt the need for bigger. Well, as the saying goes, it's not always better. I now have the 6 qt and although the capacity is bigger it is very noisy and some times it's hard to make a small batch of something. I have to constantly scrape the sides down in order for it to mix properly. For most home cooks, go with the 5 qt unless you are cooking for a family over 5.
3. Another brand I really like is Cuisinart. I love my large food processor and use it for shredding everything from carrots to zucchini to potatoes and cheese. The slicer attachment is equally excellent. However, the blade is by far, my favorite. I use it to chop bread into crumbs, whole nuts into tiny pieces and veggies into super small pieces. Be careful with the veggies as they can turn into soup if you over-puree. But what the food processor allows me to become is a wonderful baker. The pie crust, which takes about 3 minutes to prepare, comes out perfect each time. This alone is worth the money.
4. I talked about 3 sized food processors. If you can, get one of the mini ones. I use this for chopping herbs and small amounts of nuts. It saves you from cleaning the large one and will do a better job when you are not chopping a large quantity.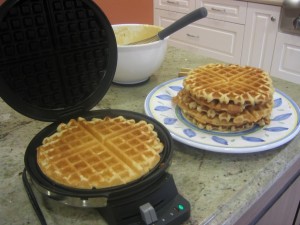 5. Another product from Cuisinart that I really like is their waffle maker. With the right batter and a little bit of time, it's easy to make delicious and healthy waffles in your own kitchen. I vary between plain to pumpkin to gluten free. Making your own probably costs around $.75 or less to make 8-10 7″ waffles. I freeze any extra and have breakfast ready to go on a school day. I find that now that the waffle maker is more accessible, I use it more frequently. Keep that in mind. Make sure you can get to it easily.
6. Next on the list of good brands is OXO. Since they specialize in small equipment, I'll just list the ones I love: tongs, both the medium and large, the vegetable peeler, a can opener that takes the top off without leaving a sharp edge (genius), and kitchen scissors. There are many other great OXO products; these are my top picks.
7. Other small utensils that I recommend are things like the unicorn magnum pepper grinder, zyliss cheese grater, Taylor instant read thermometer, a microplane, and heat resistant spatulas. That pepper grinder is the best one I've ever used. My kids can use the cheese grater and I swear, because they can grate their own cheese into their veggie soup, it makes it that much more appealing. An instant read thermometer is just an essential kitchen tool, especially for $7. The microplane makes the best lemon zest, fresh grated nutmeg and ginger. I use my spatulas for everything from scraping jars to scraping batter to cooking eggs.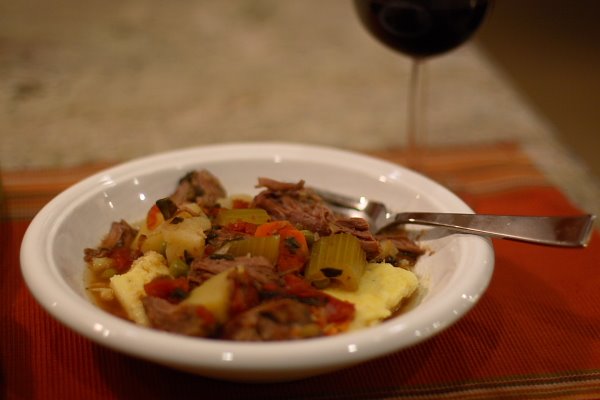 8. Just when I thought I had every appliance and didn't need one more thing, I got a slow cooker. After "test braising" one for a week, I developed a new respect for what is also called a crock pot. Just so you know, Rival owns the name "crock pot" which is why the other ones are called "slow cookers. I love the one I have for 3 reasons: I can control the time in 30 minute increments, the heat (low and high) and switch between these settings at any time, making it very versatile. Some slow cookers only adjust the time in 2 hour increments or don't allow you to just go to "keep warm" mode. Look for things like this when you shop.
9. Another product that I have been using for the last 3 years which I love is the silicone baking mat or silpat. I use it for cookies, roasting asparagus, baking chicken tenders and even making mess free nachos. If you watch the Food Network, you'll notice the chefs using this mat quite frequently.
10. I must not forget about pans. I've used lots of different ones but when it comes to stainless steel, make it easy for yourself and invest in All-Clad. They are perfect for sauteing, braising, poaching and simple boiling. The heat is conducted well and it cleans relatively easily. I only use oil, no non-stick spray, and have never had a problem. If you don't get a set, at a minimum you should have a saute pan, sauce pan (either 2 or 3 qt), and saute pan with sides. The saute pan is essential for cooking up your veggies or meats and giving them a good sear. The sauce pan is used for everything from sauces to soups to mashed potatoes. The second saute pan is essential for braising. All of these are oven proof up to 500 degrees F which is quite useful.
11. The last but not least essential cooking tool is by far good knives. At a minimum, invest in a good paring and chef's knife. One of my favorite and affordable brands is still Henckels. Make sure to also buy a sharpening steel and ask someone to teach you how to use it. I just walked over to my knife drawer, picked up my 10 year old 8″ chef's knife and sharpened it with my steel. It feels like new. If you live near me, I'd be happy to show you.
I hope you like my picks for essential kitchen tools. If you happen to be in Half Moon Bay, stop at Toque Blanche; you can find most of the items I listed above. If you have some of these things in your kitchen but don't know how to use them, you know where to find me.