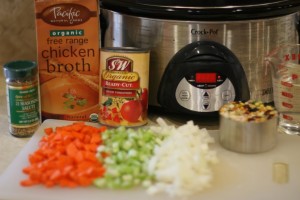 I had already posted a crock pot soup recipe but I wanted to make a super simple one. That one is this. As you see in the picture, the only real effort with this soup is chopping the veggies and opening one can. Once you do that, you'll have a delicious and super-nutritious soup 3 to 6 hours later, depending upon which setting you use.
I consider this soup to be organic. All of the ingredients are organic, except the seasoning which accounts for 1 tsp. Then again, I'm not moderated by the QAI.
If you want to lower the cost of this dish by a few dollars, use 2 qts of water instead of the broth. Add extra salt, at least 1 tsp. And speaking of salt, you should add to taste. The more flavor from the broth and the veggies, the less you need. But, if you taste the soup and it tastes "flat" or bland, add salt. With this amount of soup, add 1/2 tsp at a time until it tastes good. Your family can also add their own salt to their taste, too.
If you want to make it completely vegetarian, use the water option or vegetable broth. Remember, you can always make your own vegetable broth with veggies, water and salt. That's a good way to reuse veggie scraps as well. And if you have other veggies in the fridge like broccoli, zucchini, peas or peppers, add those to this soup. But wait until the last 30 minutes. Otherwise, those vegetables might get too soft and disintegrate.
The cooking time will vary depending upon what setting you use. This really depends upon whether you are starting it at 8a and coming home at 4p or starting at 2p and want to eat around 5p. Either way, check the beans to make sure they are cooked before serving. It might need less time than what is suggested. You want to ensure the hard beans are soft. Doing it this way means you don't have to soak them, either. Most beans, if cooked for 2-3 hours at a simmer, will be soft enough.
I hope you'll give this a try. If you don't have a crock pot, use a big pot on the stove. When I cook something on the stove for a long time, I do it when I know I will be home. The crock pot is different.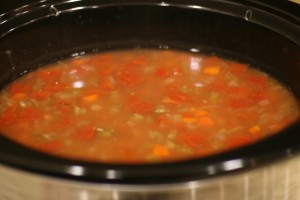 I literally threw the ingredients in a pot and 6 hours later, this is what it looked like. See below for the recipe.
Organic Crock Pot Vegetable Soup
1/2 onion, chopped
1-2 stalks celery, chopped
1-2 carrots, chopped
1 cup bean & grain mix
1 can diced chopped tomatoes
1 32 oz carton chicken or veggie broth
1 tsp salt free seasoning (or any blend)
2 cups water
Add all ingredients. Cook 6 hrs on low. Add 8-10 oz frozen organic chopped spinach and 2 cups cooked pasta at the end. Add salt to taste. Serve with extra virgin olive oil, like California grown Bariani, and fresh grated Italian cheese.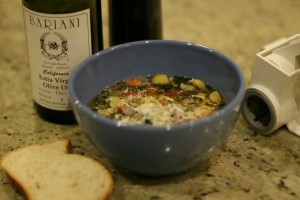 Get ready to eat. Mangia!